AirPods feature which has allowed 95-year-old man to hear again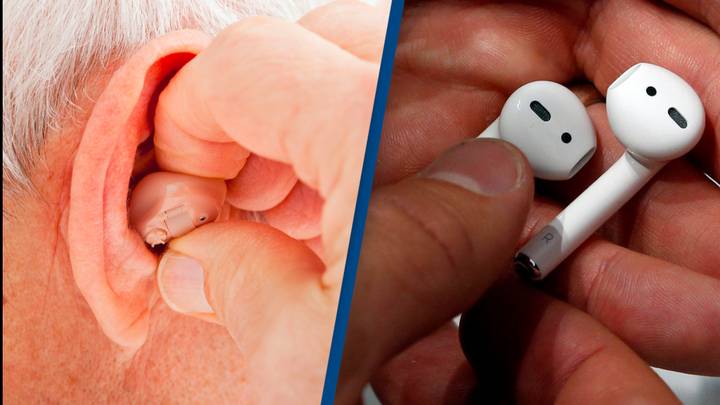 Featured Image Credit: VStock/Alamy Stock Photo/REUTERS /Alamy Stock Photo
A man has explained how an AirPods feature has enabled him to chat to his 95-year-old granddad once again.
BuzzFeed News reporter Pranav Dixit said his granddad Aba, who lives in India, used to be a social butterfly, but the deterioration of his hearing had left him feeling cut off and frustrated.
He was diagnosed with otitis media, a condition caused by repeated infections of the ear canals that were triggered by his colds, and by the time he turned 80 he had lost 70 percent of his hearing.
Keen to keep up his conversations, Aba invested thousands in hearing aids, but he hated them.
"They make all noises loud," Aba complained, according to Pranav. "I just need to hear the person I am speaking with. I don't need everything amplified. It hurts, and I can't stand it."
His hearing got to the point that Pranav could only video-call him and smile and wave, rather than have any sort of meaningful conversation - until a visit last autumn.
Pranav was wearing a pair of AirPods and they caught the attention of Aba.
"He gestured to my ears with a puzzled expression on his face," Pranav recalled.
"'HEADPHONES!' I shouted. "'I USE THESE TO LISTEN TO MUSIC!'
"And then, I wondered if I could use them for something more important."
Apple's Live Listen feature enables iPhones and iPads to transmit audio from their microphones directly to AirPods.
Pranav continued: "I hadn't had any reason to use the feature myself, but now I was curious. Could Live Listen help me have a conversation with my grandfather after all these years?
"I slipped the AirPods out of my ears and put them in his. I turned on Live Listen on my iPhone, brought it close to my mouth, and spoke into it.
"Aba's face broke into a grin, and he nodded excitedly. 'I can hear you! I can hear you!'"
It was a life-changing breakthrough, which enabled the granddad and grandson to reconnect. The only price Pranav has to pay is being asked by Aba why he didn't tell him about the technology sooner.
"These days, Aba and his AirPods are inseparable," Pranav wrote.
"He's far less lonely. He can finally meet people again and hold entire conversations, as long as they speak into his phone.
"'Why didn't anyone tell me about this before?' he asked me recently over a video call.
"I didn't have an answer, but it didn't matter because he was also smiling the biggest smile I have seen on his face in years."