Suspected serial killer accused of murdering 22 women has been killed by his cellmate in prison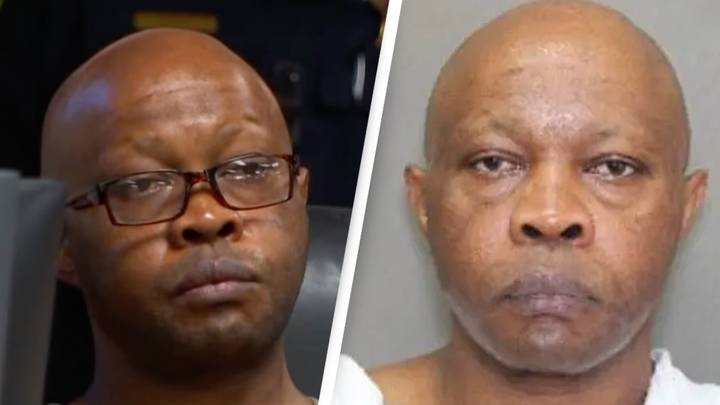 Featured Image Credit: Fox 4. TDCJ
A suspected serial killer accused of murdering more than a dozen women has been killed by his cellmate in prison.
Associated Press reports Billy Chemirmir was convicted of two murders last year, despite being indicted on 22 murder charges.
Prosecutors believed the 50-year-old posed as a medical professional or maintenance worker to gain access to the properties of his alleged victims, who were typically white and elderly.
He was caught after a 91-year-old woman survived an attack and explained to police that a man broke into her home, smothered her with a pillow and took her jewellery.
Police found him the next day at his apartment complex and discovered he had just thrown away a red jewellery box, which belonged to an 81-year-old woman who was found dead in her home.
Authorities then started to reexamine cases of elderly women who had died in the area unexpectedly to see if there were any links with Chemirmir.
His first trial ended up as a mistrial in 2021, however, in a second trial, he was convicted of murdering two women, Lu Thi Harris and Mary Brooks.
He was given two life sentences without the possibility of parole and was sent to the H.H. Coffield Unit prison in Texas.
Chemirmir maintained he was innocent throughout the investigation against him.
However, Texas Department of Criminal Justice (TCDJ) spokesperson Hannah Haney has revealed he has since been murdered in his cell.
The killing was allegedly carried out by a man who was serving time in jail for murder.
Chemirmir's attorney, Phillip Hayes, said in a statement: "Nobody deserves to be killed at any point, especially when you are in a place you're being held against your will.
Family members of Chemirmir's alleged victims have spoken out since news of his death was released.
Doris Gleason, 92, was one of the women that prosecutors believe was killed by Chemirmir and her daughter, Shannon Dion said: "My mother died in fear. This man did not have a peaceful passing.
"There's some relief in feeling that he didn't get off easily."
Dan Probst also said: "At least as far as Chemirmir is concerned, he is over he is done with.
"This is jailhouse justice. This was not an action of our justice system."
Robert McPhee added: "I'm surprised it took so long. God's got him now."