The Mandalorian Season 3 trailer has been released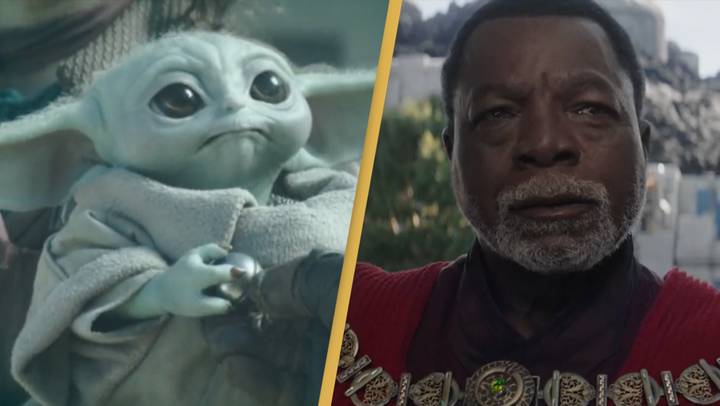 Featured Image Credit: Disney+
The Mandalorian season three trailer has arrived and let's just say fans are in for a treat.
Lucasfilm dropped the teaser for the upcoming new instalment from the beloved Star Wars series at the D23 Expo on Saturday (10 September).
As you'll see in the clip, the show will pick up from the events of season two as well as The Book of Boba Fett, which premiered on Disney+ in December last year.
Din Djarin – aka Mando – is reunited with the Force-sensitive Grogu after having been banished from the particularly strict cult-like group of Mandalorian warriors. Take a look for yourself:
There's also Mando's return to Mandalore where Bo-Katan Kryze waits in the throne room, and let's just say she doesn't seem too pleased about how things have played out.
Din's exile from the Mandalorian sect arrived after he removed his helmet in season two, and he can only get forgiveness by visiting the planet, which is now a wasteland.
There's certainly a few loose ends to be tied up, with the third season promising plenty of action along the way.
We will of course be seeing Pedro Pascal back as the titular character after he was last seen in Boba Fett, and it has been confirmed that Katee Sackhoff will be playing a major part as Bo-Katan.
Carl Weathers is also set to return as Greef Karga, even though he only featured in one episode of the last season.
Another important appearance will be Omid Abtahi once again taking on his role as Doctor Pershing.
Although fans were previously told the new season will stream in February 2023, the teaser simply says it drops in 2023 – guess we'll have to wait and find out the exact date in the months to come.
Goddamnit I can't help but be excited for Mandalorian Season 3

— Kevi | COAST 🌊 (@FloppingHardrn) September 10, 2022
Okay, the Mandalorian season 3 looks absolutely insane, I'm so excited

— Noah (Average Fella) (@noah_not_samsen) September 10, 2022
Plenty of fans are excited about the prospect of The Mandalorian's return nonetheless, with one writing on Twitter: "My favs Grogu + Daddy Din Djarin 'you ready for an adventure' OMG yessss! Can we please get a Season 2.5 to tide us over until 2023?"
Another said: "The first trailer for 'THE MANDALORIAN' season 3 is here! I'm SO EXCITED!!!!"
A third who shared the trailer wrote: "Why yes, I turn into a kid again and get all excited when a new Star Wars movie or series drops. If that's wrong, I don't want to be right!"