Super Mario Bros. movie criticised for replacing original voice actor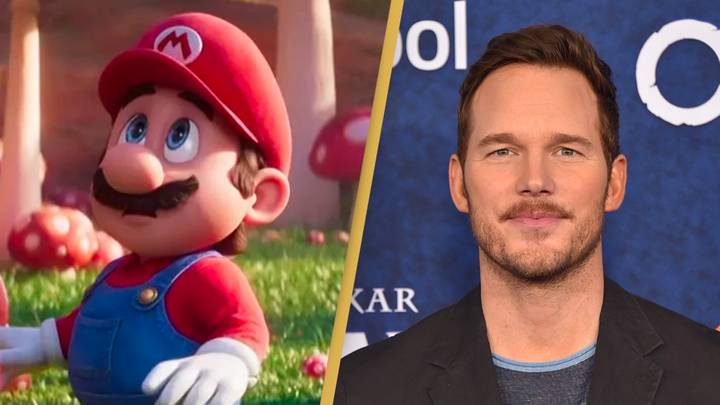 Featured Image Credit: AFF/Alamy/Nintendo/Illumination/Universal Pictures
The Super Mario Bros. Movie has caused quite a stir by casting Chris Pratt to portray the Italian plumber, with many people criticising the decision to replace the original voice actor.
Since it was first announced back in 2018, there been a lot of speculation over what exactly a Nintendo-backed Super Mario film would look like.
And while people's concerns were somewhat eased by the teaser trailer, which dropped this week, some are still not happy that the game's OG voice actor – Charles Martinet – wasn't cast.
That includes fellow voice actor Tara Strong, whose roles include The New Batman Adventures, Teen Titans, Rugrats, The Powerpuff Girls andThe Fairly OddParents, to name a few.
Following the release of the trailer, Tara took to Twitter where she shared a photo of her with the Mario legend, writing: "It should have been Charles."
Many feel that he should have been cast in the movie but that the Hollywood studios are more concerned with getting big names in.
As said by Tara in a follow-up tweet: "Voice actors – I'm gonna put my heart and soul in this for at least 20 years, help sell billions in merch, make the studios millions of dollars & make generations around the world happy.
"Hollywood – We don't care."
Another aspect of the switch that's come under fire is the fact that Pratt hasn't adapted his voice at all for the role, and sounds very American.
Amateur film company Sean Mac Productions was so unhappy with this detail, it used AI to recreate the trailer using Charles' voice.
In response to the edit, one person wrote: "I hope someone does a full movie voice replacement after it comes out. This is perfect."
Over on Twitter, fans are similarly expressing their hopes for the movie, with one writing: "Would love to see the original voice of Mario, Charles Martinet, reprise his role in this movie.
"That said it can't be any worse than the incredibly cheesy Super Mario Bros. from 1993 staring Bob Hoskins and John Leguizamo."
Despite the backlash, Tara didn't leave things on a sour note, and instead followed up her posts by saying: "Hey twitter friends, I happen to know a certain earth angel who could use some love tonight.
"Have a story about @CharlesMartinet? Pics? Ever meet him at a con? Share in this thread pretty please. I love him so much that now we insist on being next to each other at all cons."
And you can bet the online community were on hand, with dozens of pics, photos and happy memories shared. Here are a few:
I got to meet good old Charles at FanX! I spent the weekend scrambling to design a poster featuring my take on a Mario Family and he thought it was amazing.

A dream come true to say the least! pic.twitter.com/CQ6JKtWM02

— CrowJayMi (@DoJayMi) October 7, 2022
Charles himself commented on the post to express gratitude for all the love, writing: "I love you Tara! Thank you so much! Thank you everybody!
"Your love and kindness mean more than you could ever know, and genuinely touched my heart. My little eyes seem to be leaking today... with tender affection. Thank you."