Hulu finally finally announces the release date of the revived Futurama series
Featured Image Credit: Hulu
Fans went wild at the announcement in February 2022 as it had been a long time since we saw the gang from Planet Express.
Those wishes were finally answered last year when the network revealed the series would be revived just like Fry's dog in the heartbreaking 'Jurassic Bark' episode.
Series creator, Matt Groening said he was excited at the prospect of the show's return.
"It's a true honour to announce the triumphant return of Futurama one more time before we get cancelled again," he said.
Craig Erwich, president of Hulu Originals and ABC Entertainment, said they couldn't wait to dive in.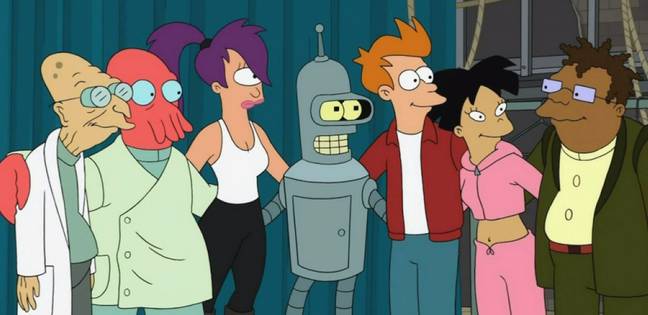 "This iconic series helped blaze the trail for the success of adult animation since its initial launch and we look forward to Matt and David continuing to pave the way and further establishing Hulu as the premiere destination for fans of the genre."
But everyone has been wondering when we will get to feast our eyes and ears on the new instalment.
Hulu has finally thrown us all a bone and given us the details we so desperately crave.
We will be getting 10 episodes of brand new Futurama on July 24.
While the announcement would understandably be music to fans around the world, it's actually half the number that Hulu confirmed last year.
We were supposed to be getting 20 epic episodes, however that seems to have been shaved down.
Or...and go with us here, they could be shelved for the second season. Who knows.
Deadline said the reboot series will have something for diehard fans as well as those who have never seen an episode.
It will cover the love between Fry and Leela, Nibbler's litter box, evil Robot Santa's origin story, where Kif and Amy's tadpoles have gone as well as a future filled with 'vaccines, bitcoin, cancel culture, and streaming TV'.
Billy West and Katey Sagal will be reprising their roles as Fry and Leela, while fellow cast members Tress MacNeille, Maurice LaMarche, Lauren Tom, Phil LaMarr and David Herman are all confirmed to return.
So set your calendars to July 24 and get ready to travel back to the year 3000 and go on wild adventures.