Logan Paul Bought The World's Most Expensive Pokemon Card And Has Given Half Away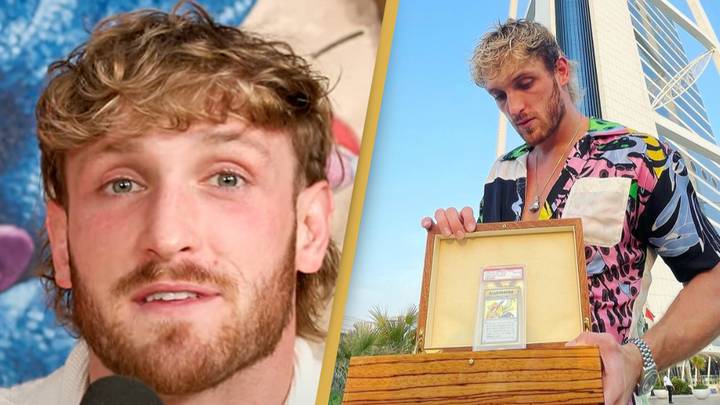 Featured Image Credit: Logan Paul/Youtube/@loganpaul Instagram
Logan Paul has revealed how he became the owner of the world's most expensive Pokémon card after he first displayed it around his neck at WrestleMania.
The YouTuber-turned-wrestler made headlines earlier this year when he arrived for his tag-team wrestling event wearing a black and yellow outfit, sunglasses, and a Pokémon card secured in a diamond encrusted case around his neck.
At the time the card was determined the world's most valuable Pokémon card; a Japanese Pikachu Illustrator card designed by the creator of Pikachu herself, which had been originally handed out in 1998 to 39 winners of an art contest.
In a new video released today (7 July), Paul explained he came across the card while doing some research and that today 'nobody knows how many copies are left'. A total of 20 have been graded, but of those 20 only one was determined to be in perfect condition. Unsurprisingly, that's the one Paul wanted to get his hands on.
The YouTuber acknowledged that the Illustrator cards are expensive, with a card rated 9/10 having just sold for $4 million online, but when presented with the opportunity to get his hands on the perfect card Paul couldn't resist learning more.
This opportunity came in February 2021, when he received a message on Instagram saying the owner was looking to sell. He pursued the sale and learned the seller wanted a staggering $6m in exchange for the card, or $4m and a card rated 9/10.
While most people would have given up by this point, Paul flew to Italy to get his hands on the 9/10 card, forking out $1.25m for the almost-perfect creation before travelling to Dubai to finally come face to face with the most valuable Pokémon card out there.
The seller had a collection worth around $15 million, but agreed to sell the card to Paul in a transaction confirmed by an official adjudicator who announced 'the most expensive Pokémon trading card sold at a private sale is a PSA grade 10 Pikachu illustrator card', for which Paul bought for the equivalent of $5,275,000 in July 2021.
The YouTuber was awarded a Guinness World Record for the sale, but in his video he announced he would be listing the card his platform Liquid Marketplace, which allows members of the public to co-own 'top tier assets', like the card.
"Instead of one person, me, owning this card, we as a collective can co-own it together," Paul said.
The YouTuber will be selling 51% ownership of the card, meaning it will be kept in a vault and future usage will be determined collectively by its owners.