Elizabeth Olsen baffled by the first thing that comes up when you Google her name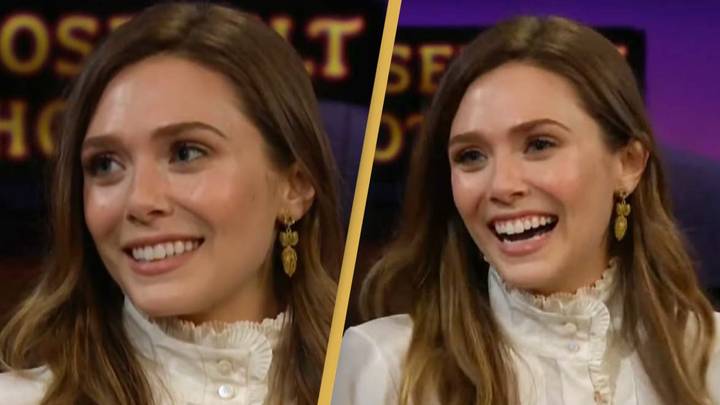 Featured Image Credit: CBS
Elizabeth Olsen wants to set the record straight about the first thing that comes up when you Google her name.
The 34-year-old Marvel actress was left confused after she was told about the Google results about her name after her best friend did what every bestie should do and notified her immediately.
During an interview with James Corden on The Late Late Show with James Corden in 2018, the WandaVision star was asked by the 44-year-old actor and talk show host what the weirdest thing she's heard about herself is.
"When I first started working, my best friend pointed this out to me – if you Google my name, the first search that will come up is 'nose job'," she told the audience. "And well, I've never had a nose job. I've had this same nose my whole life."
Olsen, who made her film debut in 2011 aged 22, said she used to be teased for her nose but said she hasn't had any work done on it.
"And I used to be made fun of for having a Michael Jackson nose growing up," she claimed. "But he had a lot of surgeries to get there."
To double-down on her point, she scrunched her nose and declared: "This is all mine. This little guy, this is all real."
Corden offered a potential explanation as to why people were searching 'Elizabeth Olsen nose job' on Google and it's not because they thought she had been under the knife.
"Or they were searching because they wanted their nose to look like yours."
Olsen replied and nodded: "Yes. Yes. Yes. That's the way to twist that."
Now, if you search 'Elizabeth Olsen' on Google you'll be offered to select searches like 'movies', 'height', 'husband' and 'sisters'.
In case you didn't know, she's the younger sister of twin fashion designers and former child actresses Mary-Kate and Ashley Olsen.
It turns out lots of people love Olsen's nose. "Her nose is actually the perfect size for her face."
A second fan wrote: "Anybody who knew Mary-Kate and Ashley knows that that's definitely the Olsen nose."
And a bunch of people want Corden as a bestie, too. "James would be such a supportive friend to have," one commenter gushed.
While other users had a more emotional reaction. "Goes to show that literally everyone can be bullied, no matter how perfect you look."