Mission Impossible cast members 'stopped breathing' while Tom Cruise performed 'most dangerous stunt'
Featured Image Credit: Paramount Pictures
Some of the cast members of Mission: Impossible – Dead Reckoning Part One have revealed that they had their hearts in their mouths while Tom Cruise was performing one of the most dangerous stunts going.
Cruise, who is well known for doing his own stunts whenever possible, decided that he wanted to drive a motorbike off a cliff and then parachute away, which – given his celebrity status – must have been a worry for everyone in the film.
What's more, his fellow cast members will also have worried for their co-star.
It's a dangerous thing to do, it turns out.
Talking to NME, Pom Klementieff and Vanessa Kirby explained how they felt when Cruise was undertaking the terrifying task.
Understandably, it was a bit tense.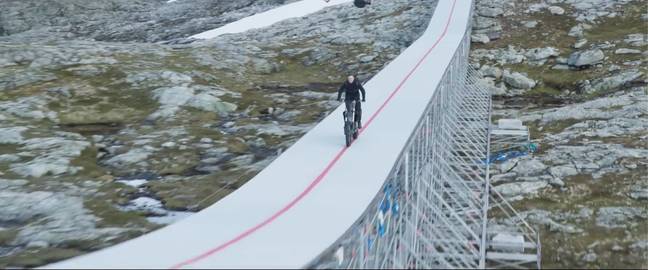 "It was mind-blowing," said Klementieff, who plays an assassin called Paris in the flick.
Kirby, who is returning to the franchise as Alana Mitsopolis, added: "Everyone else was so nervous and fearful, and he wasn't. I just thought it should have been the other way round."
Her co-star continued: "We stopped breathing when he was jumping.
"And then someone would yell, 'Canopy!' you know, when the parachute opens, and we would all cheer and applaud.
"And then he would do it again."
That's the problem with stuff like this – if you don't get it all on the first go, you'll just have to do it again.
This sort of stuff doesn't seem to faze the 61-year-old Cruise, though.
He's been training super hard for the film, and he's been doing these films for decades now, too.
It has been reported that he performed more than 500 skydives and around 13,000 motocross bike jumps before finally going for a take.
That's a lot of preparation, and very impressive dedication to he work.
Whatever you might think about Cruise, he's committed to what he does, and he definitely doesn't do things by halves.
The blockbuster film was released on June 19 and is the seventh instalment in the Mission: Impossible franchise.
Having been delayed by the Covid-19 pandemic, much like loads of other productions - not to mention just about everything else - the film has raked in around $226 million at the box office, and has broadly positive reviews.
On review aggregator Rotten Tomatoes, it has a 96 percent positive critical score, with an average rating of eight out of 10.
So, it seems as if Cruise's commitment to the bit paid off, even if it did have his co-stars and colleagues worried for a while.