Val Kilmer was paid at least $2k per second for his scene in Top Gun: Maverick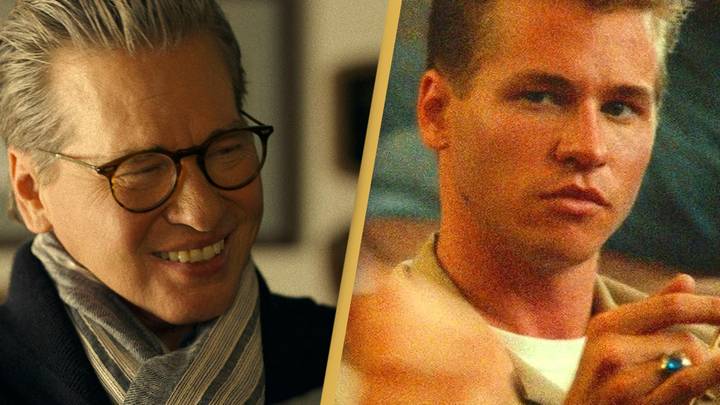 Featured Image Credit: Paramount Pictures
Despite his cameo in Top Gun: Maverick only being a small one, it seems Val Kilmer was paid very handsomely indeed for his appearance in the 2022 sequel.
Kilmer's role in the Top Gun franchise has earned him some serious money over the decades, with his portrayal as the rival of Tom Cruise's Maverick, Tom 'Iceman' Kazansky, continuing to be hailed as iconic to this very day since its release back in 1986.
While Kilmer - alongside his co-star Cruise - found worldwide fame and a successful career from his role in Top Gun, the 63-year-old actor unfortunately took a massive step back from acting after being diagnosed with throat cancer in 2015.
This resulted in him undergoing two tracheostomies, which affected his vocal chords and his ability to speak.
So, it came as a huge surprise to fans when it was announced Kilmer would be making a small return appearance in the action movie's highly anticipated sequel, Top Gun: Maverick, which was released 36 years on from the original.
Kilmer's small appearance in the 2022 movie saw Iceman reunite with Maverick after rising up through the ranks and becoming a four-star admiral.
It was a pivotal moment for both Kilmer and his fans, with his appearance being incredibly well received.
And as well as it being an emotional moment for Kilmer, with him previously admitting how much he wanted to return to the franchise, it also turned out to be a very well-paid one, too.
Kilmer's exact paycheck for his appearance in Maverick isn't clear, with reports by ScreenRant suggesting that it ranged from $400,000 to $2 million.
But going by these reports, if Kilmer was paid a minimum of $400,000, that means he'll have earned at least a pretty comfortable $2,222 per second during his 3-minute-long scene.
And if he was paid up to $2 million, that could be a staggering $11,111 per second.
This comes after the Batman Forever star opened up about his cancer diagnosis and the physical and emotional strain it had on him.
In his memoir, I'm Your Huckleberry, Kilmer recalled waking up 'vomiting blood' and calling 911 before his cancer diagnosis.
"The cancer miraculously healed much faster than any of the doctors predicted," he shared, adding: "It has taken time, and taken a toll... Speaking, once my joy and lifeblood, has become an hourly struggle."
Kilmer then said that his new voice resembles 'Marlon Brando after a couple of bottles of tequila': "It isn't a frog in my throat. More like a buffalo."