The longest standing ovations at Cannes film festival are truly shocking
Featured Image Credit: Alamy/UPI/Twitter/@rebeccaarubin
A lengthy standing ovation at the Cannes Film Festival has become a tradition.
The practice absolutely fascinates film fans across the world and leaves us all wondering whether a long-standing ovation actually suggests the film is good.
There are several films that have broken the 10-minute standing ovation record over the years, and one film in particular received applause for longer than the average length of a sitcom episode.
Here are the longest standing ovations ever at Cannes Film Festival.
16. Triangle of Sadness (eight minutes)
This black comedy film, written and directed by Ruben Östlund, had its world premiere at the 2022 Cannes Film Festival where it won the Palme d'Or, the highest prize awarded at the festival. Triangle of Sadness earned an eight-minute standing ovation from those who stayed and watched the whole film, as one graphic 15-minute scene involving vomiting and defecation prompted some members of the audience to walk out.
15. Killers of the Flower Moon (nine minutes)
Leonardo DiCaprio and Martin Scorsese's new collaboration earned an incredible nine-minute standing ovation at Cannes this year. The 2023 American epic Western film also stars Robert De Niro and Lily Gladstone, following the murders of members of the Osage tribe in northeastern Oklahoma.
14. BlacKkKlansman (10 minutes)
Spike Lee's 2018 film was well received by audiences, and it went on to win the Grand Prix, the second most prestigious award at Cannes. The biographical black comedy/crime thriller stars John David Washington as Ron Stallworth, the first black officer in the Colorado Springs Police Department, who sets out to infiltrate and expose the local Ku Klux Klan chapter.
13. Captain Fantastic (10 minutes)
Matt Ross' Academy Award-nominated film was screened in the Un Certain Regard section at the 2016 Cannes Film Festival, where it received a 10-minute standing ovation. Captain Fantastic made its world debut at the Sundance Film Festival in January 2016 and centers on a family forced by circumstances to reintegrate into society after being isolated for a decade.
Cate Blanchett and Rooney Mara's starring roles in this period drama got an ecstatic reception from audiences with a 10-minute standing ovation. Mara went on to win the Cannes prize for best actress. The 2015 film tells the story of a forbidden affair between an aspiring photographer and an older woman going through a divorce.
Baz Luhrmann's acclaimed Elvis Presley biopic rocked the room at the 2022 Cannes Film Festival. Austin Butler completely transformed himself and his voice into the King of Rock and Roll and people gave him a wonderful 12-minute standing ovation at the film's world premiere. After the film got a huge reaction, Elvis went on to score a Best Picture nomination at the Oscars this year.
8. Bowling for Columbine (13 minutes)
Michael Moore's groundbreaking documentary about the Columbine High School massacre was met with a 13-minute standing ovation at Cannes in 2002. The film bolstered Moore's profile as a documentary filmmaker, and it went on to win the Academy Award for Best Documentary Feature.
Mamoru Hosaoda's Beauty and the Beast-inspired animated tale was given a rapturous 14-minute standing ovation at the 2021 Cannes Film Festival, the longest at that year's festival.
6. Capernaum (15 minutes)
This story, about a 12-year-old imprisoned in Beirut who sues his parents for neglect, won the Jury Prize at the 2018 Cannes Film Festival.
5. The Paperboy (15 minutes)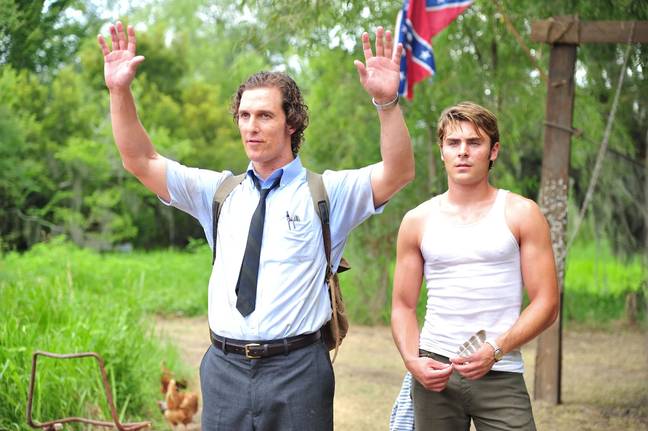 The film's all-star cast, including Matthew McConaughey, Zac Efron and Nicole Kidman, received a thunderous standing ovation plus some boos. The 1960s-set film follows a Miami reporter who returns to his hometown in Florida to investigate a murder case.
4. The Neon Demon (17 minutes)
This horror movie is set in the world of fashion, and although the Nicolas Winding Refn film earned some boos, it also got a massive 17-minute standing ovation at the Cannes Film Festival in 2016. Elle Fanning portrays an aspiring model in Los Angeles.
Although this Matthew McConaughey-starring film went home empty-handed at the 2012 Cannes Film Festival, it did earn a huge 18-minute standing ovation. It follows two teenagers as they discover a fugitive living on an island along the Mississippi River.
2. Fahrenheit 9/11 (20 minute)
Michael Moore returned to the Cannes Film Festival by topping his 13-minute standing ovation for Bowling for Columbine with a 20-minute round of applause for his 2004 documentary Fahrenheit 9/11 - which won the Palme d'Or - Cannes' top prize. It focuses on the presidency of George W. Bush and the Iraq War.
1. Pan's Labyrinth (22 minute)
A huge round of applause was in order for Guillermo del Toro's fantasy horror film which earned an absolutely massive 22-minute standing ovation. For context, that's the average length of a sitcom episode, which is a lot of clapping and probably a lot of sore palms. The film debuted at the 2006 Cannes Film Festival and went on to win three Oscars.