Fan-made poster for a live-action Rick and Morty casts Robert Downey Jr and Tom Holland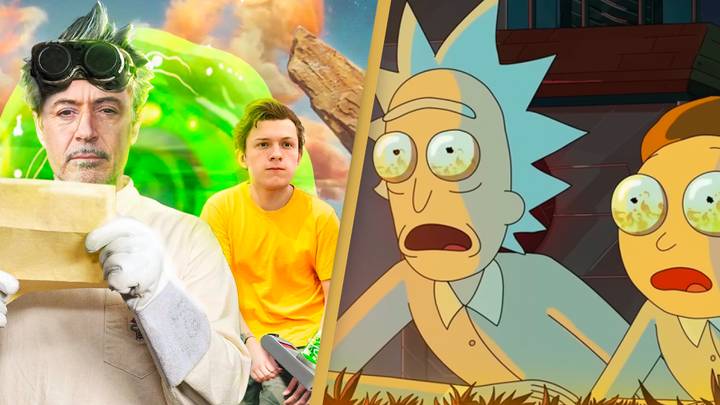 Featured Image Credit: Awful Fan-Made Movie Posters/Twitter. Adult Swim
Live-action remakes of popular animated TV series, video games or movies are all the rage at the moment.
Disney has been plugging away at bringing their biggest titles to life, like The Lion King, Aladdin, Beauty and the Beast and The Little Mermaid.
One of the biggest questions that gets asked when a new project gets the green light is who will be cast as the iconic characters.
If you've ever thought of what a live-action Rick and Morty series would look like, someone has already come up with the answer to that question.
Someone somewhere has mocked up a poster for the potential series and it has Robert Downey Jr. as Rick Sanchez and Tom Holland as Morty Smith.
The two have already proved they have incredible on-screen chemistry in the Marvel Cinematic Universe as Iron Man and Spider-Man.
The only hitch is that RDJ might be a little too young at 57 years old to play a multiverse jumping megalomanic grandfather and Holland might be a little too old at 26 to play a high school kid who goes on wild adventures with his uncle.
The mock-up landed on the Awful Fan-Made Movie Posters Twitter account and the reaction online has been fairly polarising.
One person said: "Ngl this would be sick."
Another added: "You know.. they're so right for this."
While a third just posted Michael Scott from The Office US screaming 'No! God! Please! No!'
There hasn't even been a whiff of Adult Swim wanting to do a live-action series of Rick and Morty so that last person can relax knowing this poster won't be made into reality...yet.
Funnily enough though, there has already been a sort-of live-action of the two characters.
Adult Swim cast Christopher Lloyd (from Back to the Future fame) as Rick and Jaeden Martell (Knives Out) played Morty.
It was a meta video posted towards the end of the show's fifth season and it referenced some of the biggest moments from the series so far.
Director Paul B. Cummings told Paste: "Christopher had definitely seen some of the show.
"We sent him some clips and I pulled some selected scenes that we watched together.
"Some of the clips I felt were indicative of Rick as a character and others were of the episodes that we directly reference in two of the videos— 'Pickle Rick' and the '100 Years' segments.
"Christopher told me he felt like Doc Brown and Rick Sanchez were like two brothers who took very different paths in life, so it was apparent to me that he was thinking really thoughtfully about the character and the show."
He added that the promo might not have been made if Lloyd didn't sign up to play Rick.