Doja Cat Hits Back At 'Weasel' Noah Schnapp For Sharing DMs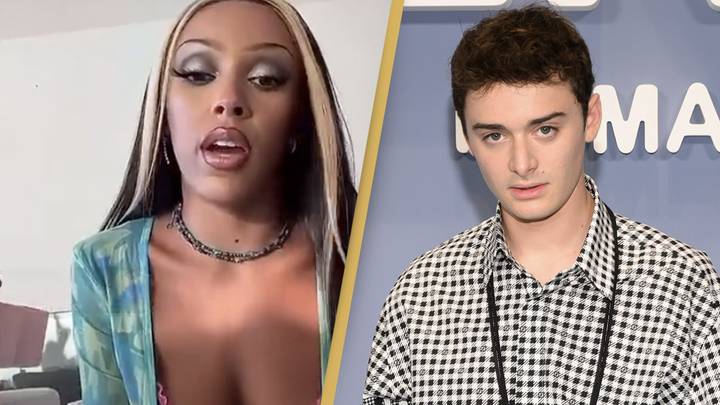 Featured Image Credit: @dojacat/TikTok/Shutterstock
Doja Cat has hit back at Noah Schnapp after he shared private DMs between the pair.
The singer recently got in contact with Stranger Things star Schnapp to ask him how to slide into the DMs of Joseph Quinn, who plays Eddie Munson on the hit Netflix show.
As it turns out, posting private messages to an audience of millions on TikTok might just tick off the person who sent those messages in the first place.
Doja Cat has made no secret of her appreciation for Quinn, having said on social media that it's 'f*****g criminal' how good the actor looks.
However, she probably didn't want Schnapp to share their private messages of her asking for Quinn's contact information so she could slide into his DMs.
She has since posted her own response to the Stranger Things star, opening with a hope they could 'be chill about it' as the 17-year-old Schnapp was still 'a kid'.
The singer then went on to brand his actions 'borderline snake s**t' and 'weasel s**t', though said she didn't think he was personally like that.
She said: "When you're that young you make mistakes, you do dumb s**t, you say dumb s**t, you f*****g f**k up relationships with people, you make mistakes like you're supposed to so that you know not to do it in the future.
"But the fact that this person, that Noah did that, went and posted a private conversation between me and him, is so unbelievably socially unaware and wack.
"You know what I mean, that's like borderline snake s**t, that's like weasel s**t. I'm not saying that encapsulates his entire personality, I wouldn't imagine he is."
Schnapp has not yet responded to Doja Cat's comments, though he has taken down the video featuring their DMs about the singer wanting to get in touch with Joseph Quinn.
During her tour of South America she faced some backlash for not sharing any photos of her time in Paraguay, with Doja Cat responding 'this s**t ain't for me so I'm out'.
As for Joseph Quinn, whether he knows any of this is going on is entirely unclear.
The actor has previously said he doesn't spend much time on social media and has a friend run his Instagram page for him, meaning he might be entirely unaware of the beef going on around him.