Vladimir Putin's invasion of Ukraine has received the backing of Syrian President Bashar al-Assad.
Al-Assad reportedly spoke with the Russian president over the phone earlier today, during which he praised the country's invasion as a 'correction of history', according to a statement from the Syrian presidency.
'During the call, they talked about the situation in Ukraine and the special military operation by the Russian Federation to protect the civilian population in the Donbas region,' the statement reads, Reuters reports.
'His Excellency stressed that Syria stands with the Russian Federation, based on its conviction of the correctness of its position.'
Assad, who received the support of Russia during Syria's civil war, slammed 'the US and NATO's destabilising policy, which led to a serious degradation of the situation in the Middle East'.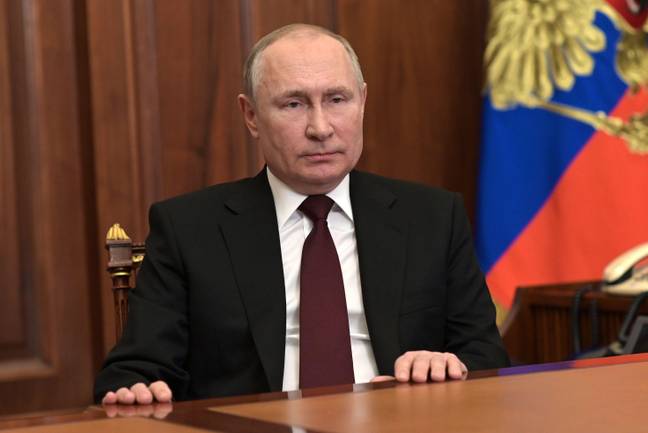 It also comes after the invasion was backed by Myanmar. 'Firstly, [Putin] views Russia carried out this performance for its perpetuation of sovereignty and it should be done by Russia,' a Myanmar junta spokesperson said, as per Sky News.
'Second, he views that Russia shows its position to the world as a world power on the balance of power which controls world peace.'
China, an ally of Russia that also opposed the 'further enlargement of NATO and called on the North Atlantic Alliance to abandon its ideologised Cold War approaches', has yet to outright condemn the invasion.
'China is closely following the latest developments. We still hope that the parties concerned will not shut the door to peace and engage instead in dialogue and consultation and prevent the situation from further escalating,' a foreign ministry spokeswoman said.
'Those parties who were busy condemning others, what have they done? Have they persuaded others? Rather than hyping up or fanning the flames, have they done enough to prevent the development of the Ukraine situation that we are seeing today?'
If you would like to donate to the Red Cross Emergency Appeal, which will help provide food, medicines and basic medical supplies, shelter and water to those in Ukraine, click here for more information