Ukraine: Vladimir Putin Puts Russian Nuclear Forces On 'Enhanced Combat Duty'
Featured Image Credit: Alamy
Russian President Vladimir Putin has placed the country's nuclear forces on 'enhanced combat duty' as his invasion of Ukraine enters its fifth day.
Yesterday, February 27, Putin made a dramatic announcement amid rising tensions between Russia and NATO states, coming after historic sanctions including the exclusion of banks from SWIFT, freezing the assets of Russia's central bank and banning Russian aircraft from EU airspace, as well as the decision to deploy additional air, land and sea forces to eastern Europe.
'As you can see, not only do Western countries take unfriendly measures against our country in the economic dimension — illegitimate sanctions that everyone knows about,' Putin earlier said.
'But also the highest-ranking officials of leading NATO countries are allowing themselves to make aggressive statements in relation to our country. For this reason I order the minister of defence and the chief of general staff to put deterrent forces on special combat duty,' he added.
Russia's defence ministry has since confirmed its strategic missile forces and Northern and Pacific fleets have been placed on 'enhanced combat duty' following an order from Putin, as per Sky News, meaning a higher state of combat readiness that previously.
According to Defence Minister Sergei Shoigu, 'Shifts on duty at the command posts of the Strategic Missile Forces, the Northern and Pacific Fleets, and the Long-Range Aviation Command began to carry out combat duty with reinforced personnel.'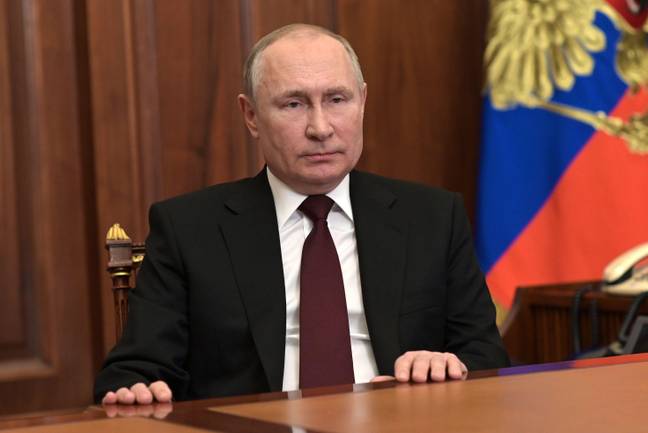 The decision to place deterrence forces on high alert came after comments from Foreign Secretary Liz Truss, who recently said NATO countries could be dragged into a wider conflict if Putin's 'special military operation' wasn't stopped.
'If we don't stop Putin in Ukraine we are going to see others under threat – the Baltics, Poland, Moldova, and it could end up in a conflict with NATO... we do not want to go there. That is why it is so important we make the sacrifices now,' she said.
Defence Secretary Ben Wallace says Vladimir Putin's move to put his nuclear weapons on 'high alert' is to "distract the world and the public from what he's actually doing in Ukraine".pic.twitter.com/AmylN1RSsm

— Fraser Knight (@Fraser_Knight) February 28, 2022
Dmitry Peskov, the chief spokesperson for Putin, said, 'There were unacceptable statements about possible conflict situations and even confrontations and clashes between NATO and Russia. I will not name the authors of these statements, although it was the British foreign secretary.'
Contrasting Truss's comments, the UK's defence secretary downplayed Putin's move, dubbing it a 'battle of rhetoric' over anything else. 'We don't see or recognise, in the sort of phrase or the status he described, anything that is a change to what they have currently as their nuclear posture,' Ben Wallace said.
If you would like to donate to the Red Cross Emergency Appeal, which will help provide food, medicines and basic medical supplies, shelter and water to those in Ukraine, click here for more information