High school students might have to resit their final exams after the tests flew out of a truck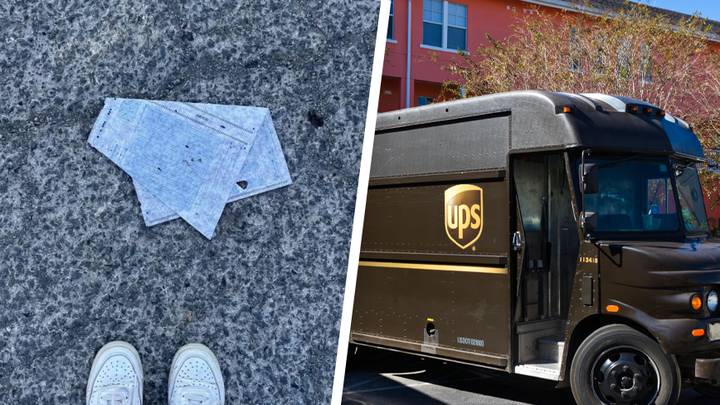 Featured Image Credit: keimichell3/TikTok/NBC Ian Dagnall / Alamy Stock Photo
A group of Texas high school students might have to retake their SATs after their exam papers flew out of a UPS truck.
The New York Post reported that the awkward blunder happed to seniors at El Paso High School when their exam papers flew away while being transferred for marking.
As the papers ended up on the street, it caught the eye of passing students, who discovered the pencil-filled Scantron bubbles were completed the day before.
Instead of using these test scores as part of their college applications, at least 50 pupils might have to resit the STAs, as papers were damaged and, in some cases, lost.
A senior at the high school Freddy Chavez told The New York Post: "I was driving on Mesa Street back from the gym and all of a sudden, I see like, a bunch of papers just everywhere."
He continued: "I really didn't think much of it until a few days later, when I heard rumors that those are actually SATs. I connected the dots right away."
Students were then called in for a meeting by the school to notify them that the tests they sat on October 27 were no longer valid.
In a statement emailed to USA TODAY, UPS apologised to the school for the incident and said they are working hard to retrieve the papers.
"Our employees are working to recover as many tests as possible, and we will work with the school to resolve the situation," UPS said.
"The driver's actions in this case are not representative of UPS protocols and methods, and we are addressing this with him."
the company added: "Safely meeting our service commitments is UPS's first priority."
Amid the outrage, UPS has refused to reveal the driver's identity.
According to USA Today, the College Board is also currently working with El Paso High School to find a remedy for the situation.
One possibility is that students could sit for an ACT, a similar standardised test that would come at no additional cost.
However, one student - Ezra Ponzio, told KFOX TV that he was no longer to submit an earlier college application: "I was mostly looking at [Texas] A&M so the early deadline is already shot.
"Hopefully, the SAT score can come in time for the actual deadline in January, but here's hoping."