Monkeys 'stolen' from Dallas Zoo found in closet in abandoned home
Featured Image Credit: @dallaszoo/ Twitter/ Dallas Police
Dallas police are looking to speak with a man captured in surveillance footage after two monkeys thought to have been stolen from Dallas Zoo were found in the closet of an abandoned home.
The zoo announced news of the missing emperor tamarin monkeys on Monday (30 January), after members of its animal care team went to their enclosure and found two of them gone.
In a post on Twitter, the zoo said it had alerted the Dallas Police Department as it was 'clear the habitat had been intentionally compromised'.
"Emperor tamarin monkeys would likely stay close to home - the Zoo searched near their habitat and across Zoo grounds, and did not locate them. Based on the Dallas Police Department's initial assessment, they have reason to believe the tamarins were taken," the zoo explained.
During their search for the creatures, Dallas police shared images of an unidentified man they wanted to speak to about the case.
Investigators did not explain why they wanted to speak to the man, or when the images were taken, but he could be seen walking slowly down a quiet path in the zoo while looking around beside him.
A tweet from the police department read: "Dallas Police are looking for the public's help in identifying the pictured individual. Detectives are looking to speak with the man in regard to the two tamarin monkeys missing from the Dallas Zoo. Anyone with information- call 214-671-4509."
The image showed a man wearing a navy blue beanie hat and a navy hooded sweatshirt.
A few hours after the monkeys were declared missing, Dallas police received a tip they may be at an abandoned home in Lancaster, Texas, approximately 15 miles south of the zoo.
The tip proved correct, as the department told CNN: "Dallas police, with Lancaster police, went to the home and the home was empty, and the monkeys were found in a closet."
Dallas police shared a photo showing one of the monkeys perched inside the closet on top of what appeared to be some fencing.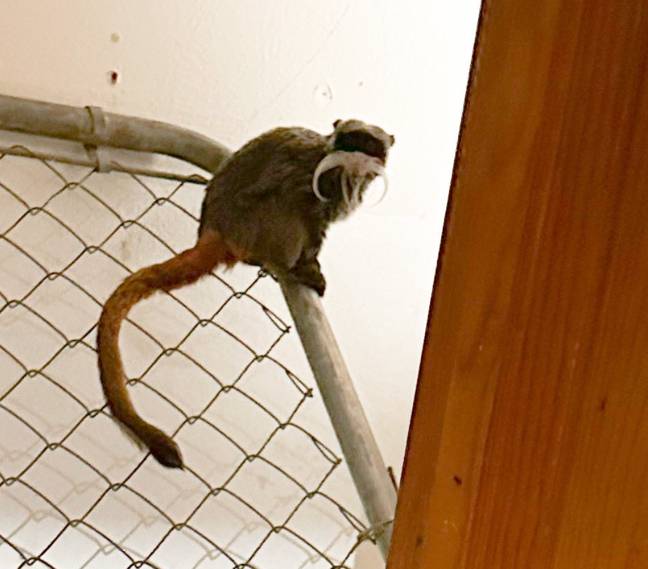 It's currently unclear how the monkeys were transported to the home, but Dallas Zoo assured that they would be returned and checked over.
"We are thrilled beyond belief to share that our two emperor tamarin monkeys have been found," the zoo said on Tuesday. "They will be evaluated by our veterinarians this evening."
Dallas police spokesperson Kristin Lowman has confirmed investigators still want to speak with the man seen in the images.