Horrifying moment orca came to viewing window with dead SeaWorld trainer in its mouth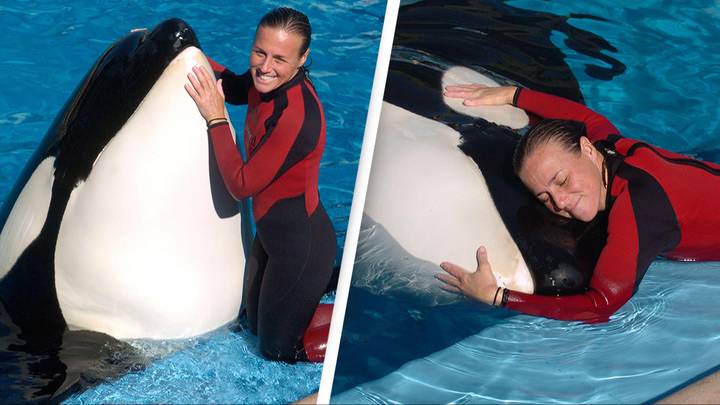 Featured Image Credit: Abaca Press/Alamy Stock Photo
A horrifying incident at Orlando's SeaWorld more than 10 years ago led to the death of a trainer unfolded in front of shocked guests, with one describing the 'scary' scenes in a harrowing witness statement.
In March 2010, trainer Dawn Brancheau was killed when 12,000lb killer whale Tilikum - also known as 'Tilly' or by the generic stage name of 'Shamu' – grabbed her and pulled her underwater.
Following an investigation into her death, the Occupational Safety and Health Administration imposed a ban on trainers entering the water with whales during shows.
After the attack, witness Susanne De Wit recalled the sheer horror of what guests saw that day, having seen Brancheau in the mouth of the orca as it swam towards the viewing window.
In a statement to the Orange County Sheriff's Office, Susanne De Wit said: "They told us he was playing with the trainer. Suddenly I saw Shamu grabbing the trainer by the shoulder and pulling her down in the water near the window.
"It did not look normal. It was scary. He was very wild with the trainer still in the whale's mouth. The whale's tail was very wild in the water.
"The tour guide pulled us out and there was a full alarm. We then saw them throw a net into the water."
A report into the incident also referred to an interview with De Wit, who had been visiting from the Netherlands, saying how she recalled seeing Brancheau's legs as she moved 'extremely fast' while the whale 'was shaking'.
Speaking to The Sun last year, Brancheau's sister Debbie Frogameni said the family was still trying to understand what had happened.
"Some days, I think we are still processing her loss," she said.
"Dawn was just so special to so many people and I'm not sure you ever get past losing someone like her.
"I think we do find some comfort knowing that she accomplished and experienced more in her short 40 years than most people who live long lives.
"But that doesn't take away what our family and the world lost that day."
In a statement to the outlet, SeaWorld said: "That tragic situation happened more than 12 years ago. Trainers have not been in the water training with killer whales for many years.
"We have extensive protocols and training in place to protect the safety of our trainers and animals."
If you have experienced a bereavement and would like to speak with someone in confidence, contact Cruse Bereavement Care via their national helpline on 0808 808 1677