Marjorie Taylor Greene Complains About Being Treated As A 'Crazy Person'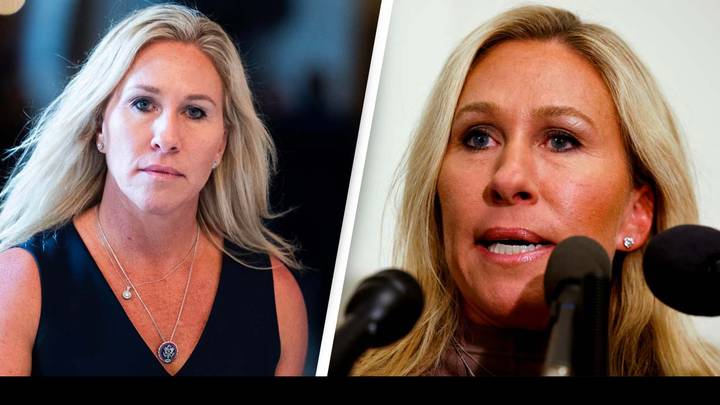 Featured Image Credit: Alamy
Marjorie Taylor Greene, a far-right QAnon-supporting congresswoman, doesn't like being treated as a 'crazy person'.
Like most outspoken Republican figures, she's repeatedly said she's being 'censored' - even wearing a face mask sporting the word - despite constantly using her platform to peddle her rhetoric, to the point Twitter permanently banned her personal account.
Greene, who also suggested earlier wildfires may have been caused by a Jewish-controlled space laser, described a Parkland shooting survivor as a 'coward' and called Caitlyn Jenner a 'man in a dress', has now hit out at those who describe her 'crazy', whether it's Democrats or members of the press.
During a recent appearance on Alex Jones' InfoWars show - yes, that's where she decided to air her 'crazy' complaints - she said, 'It bothers me so much - they treat me as if I'm some kind of crazy person, or like I have three horns coming out of my head,' as per The Independent.
Marge Greene says she is misunderstood: "It just bothers me so much. They treat me as if I'm some kind of crazy person - like I have 3 horns coming out of my head. But what they don't understand is, they're the ones that are crazy." pic.twitter.com/u8XEdZEtdw

— Ron Filipkowski (@RonFilipkowski) February 20, 2022
According to Greene, 'they're the ones that are crazy and they're the ones that are so disconnected', and Democrats are 'really scared of the American people'.
'They know that if the American people actually woke up from the dream that they're living in the so called American dream where it's more like entertainment at like Roman games or something like that,' she added.
The lawmaker - who's congressional duties were stripped after the Parkland survivor incident - recently accused House Speaker Nancy Pelosi of overseeing a clandestine effort to spy on Republican politicians.
'Not only do we have a DC jail - which is a DC gulag - but now we have Nancy Pelosi's gazpacho police spying on members of Congress, spying on the legislative work that we do, spying on our staff, and spying on American citizens that want to come talk to their representatives,' she said, sparking swift mockery across the world.
'At least she leads by example. She clearly banned all books from her house years ago,' Alexandria Ocasio-Cortez said.
However, Greene bit back in a statement to People. 'No soup for those who illegally spy on Members of Congress, but they will be thrown in the goulash,' she said.