Burning Vessel Carrying Porsches Also Had $30 Million Worth Of Bentleys On Board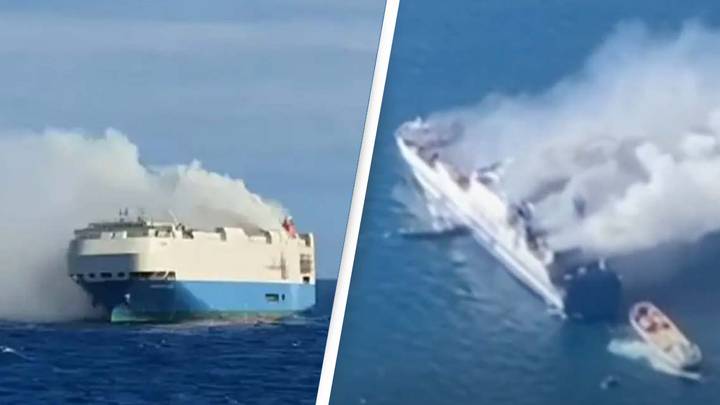 Featured Image Credit: Portuguese Navy/Hindustan Times/YouTube
The Felicity Ace cargo ship that caught fire reportedly had 189 Bentleys worth $30 million on board, as well as Porsches.
The 22 crew members were rescued by the Portuguese navy after a distress signal was raised.
However, the ship's cargo — thousands of Volkswagen Group vehicles, which are now reported to include 189 Bentleys — remained stuck on board.
In addition to the 1,000+ Porsches on the ship, Bentley has now confirmed that nearly 200 of its cars were also part of the cargo.
A spokesperson for Bentley spoke to The Drive, 'We are aware of an incident involving a third-party cargo ship transporting Volkswagen Group vehicles across the Atlantic.
'The vessel was on its way to North America. At this time, we are not aware of any injuries. We are in contact with the shipping company to get more information about the incident.'
According to The Drive, the retail value of those cars is estimated at $30 million.
Audi, also part of the Volkswagen Group, said that a number of its cars were also on board, but did not confirm how many.
Porsche also confirmed the loss of its vehicles on its 'Track Your Dream' app.
The statement said, 'We are aware of an incident aboard the Felicity Ace, a specialized cargo ship carrying certain Porsche vehicles. Your dealership will provide you with additional information on how this impacts you as soon as we have additional information and know the full scope of the issue.'
The cause of the fire has still not been confirmed, and the Felicity Ace has been used before to ship Volkswagen Group vehicles in varying quantities.
Car carrier losses aren't common; in fact, according to the Insurance Information Institute, car losses on large ships have steeply declined in recent years.
Up until 2018, car losses used to occur on around 100 ships per year, but from that point on the number dropped to just 53.
Given that the Volkswagen Group is ranked as the tenth biggest company in the world, as per the Fortune 500 list, the loss of thousands of cars isn't as big a hit as it might seem.
It is, however, pretty devastating for the would-be car owners, not to mention the environment.