Airport baggage handler dies 'after being sucked into plane engine'
Featured Image Credit: WSFA 12 News
An airport baggage handler lost their life in a freak accident that saw them 'sucked into [a] plane engine'.
The unidentified victim died on New Year's Eve (31 December) at Montgomery Regional Airport in Alabama while working on the ramp of a departing plane.
The Envoy Air flight was waiting to depart to Dallas, Texas, WSFA-12 reported, when the worker, who was reported to be an employee of Piedmont Airlines, was killed at around 3 pm.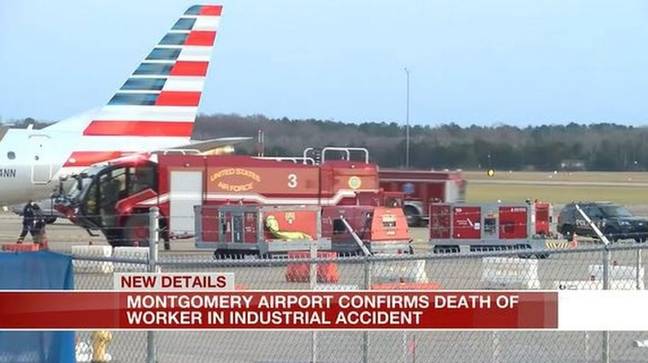 An airport spokesperson said at the time: "Today [at] around 3 pm an American Airlines ground crew piedmont employee was involved in a fatality.
"No additional information is available at this time. Our thoughts and prayers are with the family of the deceased."
American Airlines also issued a statement, telling Insider that they are 'devastated by the accident involving a team member'.
"Our thoughts and prayers are with the family and our local team members," they added. "We are focused on ensuring that all involved have the support they need during this difficult time."
Piedmont Airlines is a subsidiary of American Airlines.
Following the freak accident, all inbound and outbound flights via MGM were temporarily suspended at the airport, however, Montgomery Regional Airport tweeted yesterday that normal operations had returned by 8:30 pm that evening.
Two people familiar with the incident told Reuters that the engine was running as the Piedmont Airlines ground crew worker did their job.
The National Transportation Safety Board said in a statement cited by CBS News that the worker was 'ingested into the engine' of the plane, which reportedly had its parking brake set.
The death was described as an 'industrial accident' by the airport.
The plane involved was a four-year-old Embraer E175, and it was on the ground preparing for flight AA3408 from Montgomery to Dallas at 3.46 pm that day.
The airport subsequently announced that any passengers of the subsequently cancelled flight could collect their luggage from the American Airlines counter.
An investigation has now been launched into the incident by Federal Aviation Administration (FAA) and the National Transportation Safety Board.
The airline has also mobilised its CARE team to give the victim's family and friends any support they might need during this difficult time.
The FAA is expected to release more information about the incident when its first report is filed today (2 January).
A spokesperson for The National Transportation Security Safety Board (NTSB) told UNILAD: "The NTSB has opened an investigation into the accident. The name of the accident victim will be released by local authorities. A preliminary report is expected in 2-3 weeks."
UNILAD has contacted Piedmont Airlines for further comment.