Nicolas Cage has revealed the character that he has found the most challenging to play in his career, and the answer – depending on how well you know Nic Cage – will either surprise you or leave you absolutely unmoved.
Cage has appeared in well over 100 films, playing a number of both iconic and – sometimes – very silly characters, but it seems as if his latest film gave him the biggest pause for thought out of any role he's starred in.
That's because for The Unbearable Weight of Massive Talent he's playing a fictionalised and hyper-real version of Nicolas Kim Coppola himself.
As you can see from the below trailer, it's going to be a strange one:
Of all the roles Cage could've picked, he – perhaps naturally – picked playing himself as the most difficult.
We discovered this because Cage decided to promote the film by holding an AMA – Ask Me Anything, for the uninitiated – on Reddit, letting fans pose him questions and giving them exactly the answers they crave.
As you can imagine, the whole thing is worth a read, because it provides a unique and illuminating insight into the mind of one of Hollywood's most enigmatic and best-loved stars.
Cage was asked about the toughest roles of his career, and he responded: "I would say that Nick Cage in Massive Talent was the most challenging role I had to get into character for because I had the added component of trying to protect a person named Nick Cage and also facilitating the director's absurdist vision of so-called Nick Cage and it was a highwire act everyday."
Yes, the most challenging role for Nicolas Cage was Nicolas Cage.
It stands to reason, really.
You can easily see how playing a strange and unrecognisable version of yourself would present a challenge, particularly if you have to play yourself in a way that might cast you in an unfavourable light.
Cage has never exactly been against the idea of taking on the difficult parts, though. The 58-year-old has never been one to shy away from a role, whether it be in an arthouse drama or a big action flick.
Cage also offered up his favourite performance he's ever given, explaining that Pig – a 2021 drama he starred in – was where he believes he really got it right.
Cage continued: "Pig is my favorite [sic] performance of mine, and I think that movie, along with Scorsese's Bringing Out The Dead are arguably my two best movies as a whole."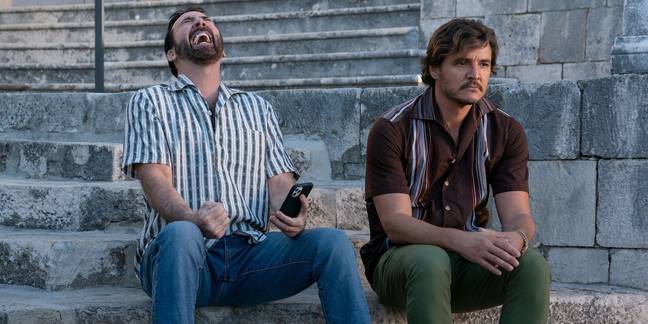 Elsewhere in the AMA – which again, you should definitely check out – Cage revealed that he'd be keen to return to his role in Face/Off 2, and said that the character he'd most like to play is Jules Verne because they both 'love the sea'.
It's everything that you'd hope an AMA with Nic Cage could be and more.