New trailer for Squid Game reality show gives preview of challenges contestants will face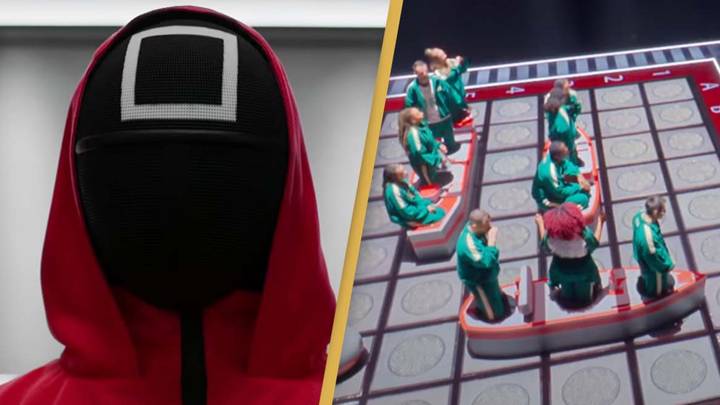 Featured Image Credit: Netflix
Netflix has just dropped the trailer for Squid Game: The Challenge reality show and it's safe to say there's some strong reactions from fans.
The trailer gives fans a preview of the intense challenges that contestants will face in the epic game show, and while we await a second season of the hit Korean drama, the spin-off game show is sure to impress fans.
According to Netflix, the game show will have 456 real players battling it out for a prize of $4.56 million.
Just like the gritty drama that inspired it, expect plenty of twists and turns as contestants form alliances during this fiercely fought reality show.
One contestant can even be heard strategising during the trailer, saying: "$4.56 million dollars. People do a whole lot worse for a whole lot less."
Even more eerily, those brave enough to take up the challenge will wear the same iconic green jumpsuits - complete with their own number.
Towards the end of the trailer, fans even get their first glimpse of the iconic Red Light Green Light statue as competitors race towards it.
While the eliminations might not be quite as graphic as Squid Game, competitors will be tested in brutal rounds where they will have to show-off their speed, agility and quick thinking.
If that wasn't intense enough, the producers behind the show have promised some 'surprising new additions' with games not seen in the original series.
As more contestants are knocked out every round, fans will undoubtedly be on the edge of their seats as they find who will take the epic cash prize.
Understandably, those who watched the original Netflix drama are a little excited to see the survival show spin-off, though some did also raise concerns.
Reacting to the new trailer on YouTube, one gushed: "This should lead directly into Squid Game Season 2 with whoever wins or loses or both!!"
However, viewers soon began to discuss how the contestants would be eliminated as this has yet to been revealed.
Unless you've been living under a rock, you'll be well aware of how gory these were on Squid Game, with players being killed during the brutal battle for cash.
Commenting on this, another YouTuber added: "So excited, I'm very curious how they're gonna get rid of players in the game since this is a real game not a fictional game."
Meanwhile, a third joked: "Are the stakes as high as the OG drama series? Now that I'd watch."
Well, you just have to find out when Squid Game: The Challenge airs on November 22.