John Stamos admits he was 'angry' when Mary-Kate and Ashley Olsen didn't want to come back for Fuller House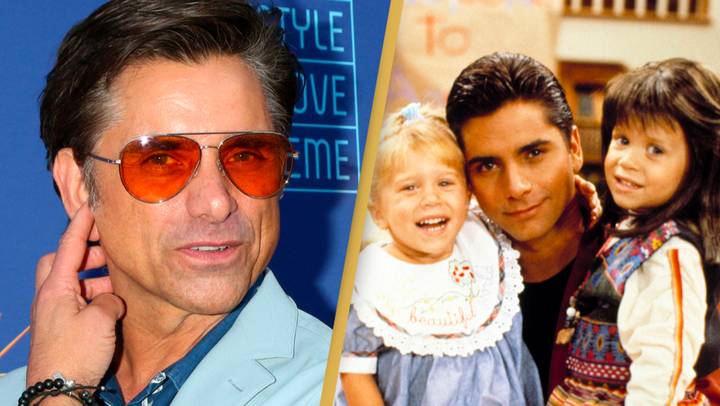 Featured Image Credit: Kathy Hutchins / Everett Collection Inc / Alamy
Actor John Stamos has admitted he was a little 'angry' when he heard Mary-Kate and Ashley Olsen didn't want to come back for the Full House reboot.
The original sitcom aired from 1987 to 1995, starring the likes of the Olsen twins, Stamos, Bob Saget and Dave Coulier.
And when the show was canned in the mid-90s, many expected that would be the end - but streaming giant Netflix had other plans.
The company debuted a reboot of Fuller House on the popular streaming platform back in 2016, with the likes of Stamos and Saget returning after over 20 years.
But the Olsen twins were two of the original cast not to return for the reboot, with Stamos saying he 'respected' their decision at the time.
However, Stamos has since revealed his true feelings as to what he thought when the twins decided to decline the opportunity to be a part of the reboot.
Stamos had huge praise for his late friend, saying he was the glue who kept the crew together after the final episode of the original sitcom aired in 1995.
"[Bob Saget] was very instrumental in keeping us all together. The twins moved to New York," the star said.
"And I gotta tell you, one of the only good things to come out of Bob's, well ... Mary-Kate and Ashley, we didn't see them much. I mean, we stayed in touch a little bit but Bob really did.
"And they were so great. You hear rumors, 'Oh, they hated their childhood or they hated being on the show or whatever'."
Then, Stamos opened up about his true feelings regarding the twins deciding not to come back to Fuller House.
He said: "When I did Fuller House, they didn't wanna come back. And I was angry for a minute.
"And that got out. But they were, like, 'We loved our childhood. We loved being with you. We miss Bob'."
In an interview on the Howard Stern Show, Stamos said he reached out to Mary-Kate to explain the idea for the reboot, but they were apparently not interested.
"They decided not to, which I respect," Stamos said at the time.
"[The twins] seemed very into it, they just were afraid of acting, they hadn't acted, you know, they don't consider themselves actresses."
Back in 2018, Saget defended the twins' decision not to return for the reboot, telling ET: "People should do what they want with their lives, and when they're 9 months old and they get a job, [they have a right to stop doing it].
"I love them very very much, Ashley and Mary-Kate, and they love what they do and acting is not what they want to do.
"People should do what they want to do."