Egypt releases statement to condemn Netflix's new series about Cleopatra
Featured Image Credit: EmmePi Travel / Alamy Stock Photo/Netflix
The government of Egypt has hit out at a new Netflix show Queen Cleopatra, claiming that she was 'light-skinned'.
The series, which has been executive produced by Jada Pinkett-Smith, is set to be released on 10 May and features actor Adele James in the title role.
The streaming platform has described that casting choice as 'a nod to the centuries-long conversation about the ruler's race'.
However, the government of Egypt has since called that choice a 'blatant historical fallacy'.
The eight-episode docudrama has clearly divided opinion, with the Egypt's Ministry of Tourism and Agriculture arguing that the show 'requires those in charge of its production to investigate accuracy and rely on historical and scientific facts'.
Artefacts such as coins and statues suggest that Cleopatra - who is thought to have been of Macedonian Greek heritage - was light-skinned, the ministry argues.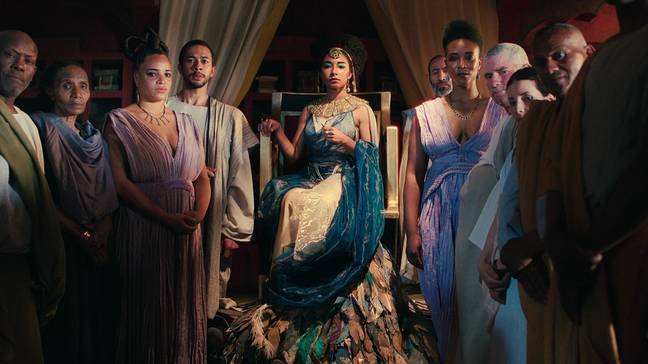 Dr Mostafa Waziri, the secretary general of the Supreme Council of Antiquities, said that the character presented in the show is a 'falsification of Egyptian history and a blatant historical fallacy'.
He said that the problems with the show are 'far from any ethnic racism, stressing full respect for African civilizations and for our brothers in the African continent that brings us all together'.
Cleopatra ruled Egypt between 50-31BC and was the last ruler of the great civilization.
She was descended from Alexander the Great's famous bodyguard Ptolemy I Soter.
He was also the founder of the Greek-speaking Ptolemaic Kingdom.
The evidence in this instance is fairly strong, as writings from around the time suggest that she was light-skinned and from Macedonian ancestry.
Dr. Samia Al-Mirghani, former director general of the Center for Research and Conservation of Antiquities, said in a statement: "Egyptians did not bear the features of sub-Saharan Africans."
She argues that the evidence from tombs and other antiquities 'portrayed the Egyptians with features as close as possible to the contemporary Egyptians' but said that there was admittedly 'a great diversity' in the ancient Egyptian world.
Former Antiquities Minister Zahi Hawass said: "If we see statues and forms of her father and brother, we will not find any evidence supporting this claim that she was black."
The show's director, Tina Gharani, has argued that she watched Elizabeth Taylor - a white woman - play Cleopatra, explaining: "I was captivated, but even then, I felt the image was not right. Was her skin really that white?"
She also adds that while the queen was from Macedonian royalty, she was 'eight generations away from these Ptolemaic ancestors, making the chance of her being white somewhat unlikely'.
Gharani argued: "Why shouldn't Cleopatra be a melanated sister?
"And why do some people need Cleopatra to be white?
"Her proximity to whiteness seems to give her value, and for some Egyptians it seems to really matter."
As for James, who will play the role, she has had some horrific racist comments made about her casting, sharing a screengrab of those comments, and suggesting that 'if you don't like the casting, don't watch the show'.