Tech company's end of shift message has opinion seriously divided
Featured Image Credit: Kritika Dubey / LinkedIn / Aleksey Gulyaev / Alamy
A message that a tech company sends out to all its employees once they reach the end of their shift has seriously divided opinion online.
Unfortunately, overtime has become the norm for a lot of people at work - and what makes it even worse is that it is typically unpaid.
They put in an average of 7.6 unpaid hours per week, which is equivalent to £7,100 ($8,579) a year going unpaid on average.
The stats really are quite shocking, and some companies have been criticized for allowing or, perhaps, even making their employees to do unpaid overtime.
But this one company displays a message on employees' computer screens to ensure they do log off when their shift is due to finish.
The company in question is Indian based SoftGrid Computers, with the message going viral after Tanvi Khandelwal, a human resources specialist, posted a picture of it on LinkedIn.
It starts with bright red text which reads, 'Warning!!!', before adding: 'Your shift time is over. The office system will shut down in 10 mins. Please go home!'
Khandelwal only joined SoftGrid Computers a matter of days ago, so she was a little surprised to see the message pop up on her computer at the end of the working day.
As per NBC News, she said: "While I was surprised to see such a message on my computer system, I believe that a healthy work-life balance is very important.
"I am a social worker, as well, and such work culture allows me to engage in those activities after my office hours."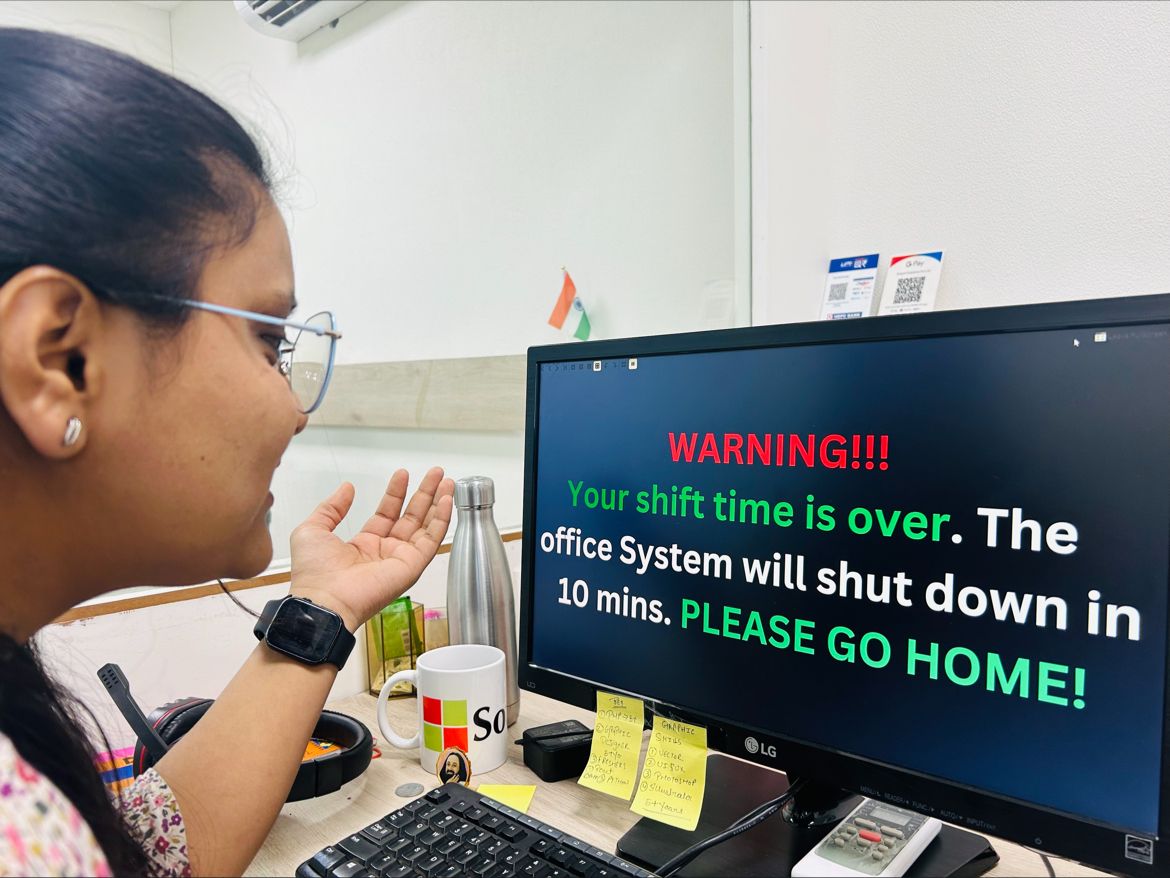 Shweta Shukla, CEO and co-founder of SoftGrid Computers, has said that the decision to bring in the message was to help employees enjoy a better work-life balance.
"Since the pandemic, we have all been facing issues with working overtime and missing out on the social parts of our daily lives, like quality time with our families and loved ones," she said.
The LinkedIn has gone viral on the platform, with over 400,000 likes and 7,000 comments.
It is fair to say while the message is intended to be in good faith, it has divided fellow workers.
"What should happen if I am in a call with a client when the system locks? Does it automatically end that call, potentially ending the relations with that (potential) client?" one person asked.
A second added: "God I'd hate it. Let me decide how and when I work, I don't need to be switched off."
And a third said: "That is enforced working hours and I'd have a real problem with that, having worked in a truly flexible workplace. Appreciate the spirit of the gesture though."
But there were some LinkedIn users that applauded the idea.
"This is awesome, a welcome development," one person commented.
While another simply said: "Really awesome."