Sleep expert explains when you should never use a pillow
Featured Image Credit: levitex/TikTok
A sleep expert has revealed that people who sleep in one particular position should never use a pillow and reckons it's better to change your position altogether if possible.
James Leinhardt, founder of Levitex - a pillow and mattress brand that focuses on spine health, took to TikTok to inform his followers of when it's best to ditch the pillow for a decent night's kip.
In fact, James reckons sleeping in that position is bad enough but 'begs' his followers not to add a pillow into the mix. You can find out why here:
In the clip, James can be seen lying flat on his front with a pillow tucked under his chin - he then urges his followers not to copy him.
He explains: "This is the only time I would beg you not to use a pillow at all.
"Sleeping on your stomach is bad enough, but sleeping on a pillow on your stomach is just killing your spine. All you're really doing is lifting your head and stretching things in all the wrong ways. Just avoid it please, get rid."
The video has drawn a mixed response from those who do sleep on their front with some vowing to continue to do so and others saying they'll consider switching it up.
One person wrote: "Makes so much sense! I always move my pillow away when I'm laying on my stomach because it feels so uncomfortable."
Another person asked: "So if you like sleeping on your stomach; it's fine to lay flat without a pillow? I find it's the best position for falling asleep quickly."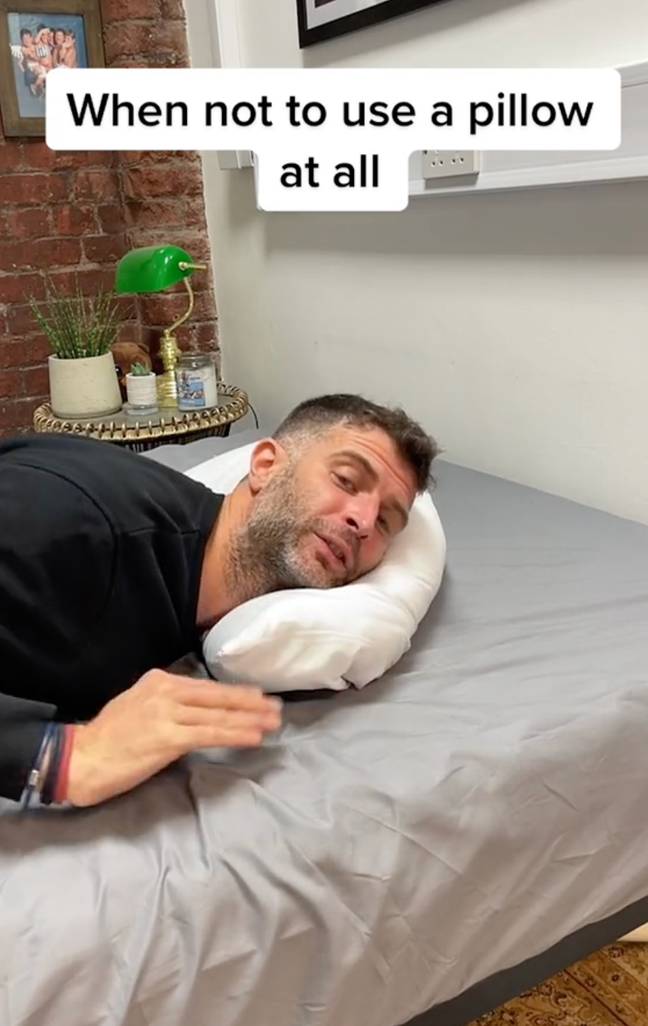 However, someone else commented: "Finding out that every single position I sleep in, is incredibly bad... Will I stop though? probably not."
Someone else asked: "OK but what am I supposed to put my arm under if there's no pillow?" Good question.
In an a previous clip James has spoken about the problems that sleeping on your front can cause.
Using a model wearing a muscle-printed suit, he explained that the muscles at the back of your upper legs have to extend to maintain the position.
And it's not just your legs that will end up suffering.
"None of you have ever watched TV like this, so why would you spend hours upon hours twisting your neck?" he continued.
Then there's your spine to think about, which is under strain when you lay on your stomach and will cause back problems 'very, very soon' if continued.
You have been warned, front sleepers.