Detectives realise YouTuber claiming to be 'victim' is actually husband's killer after she slips up in police interview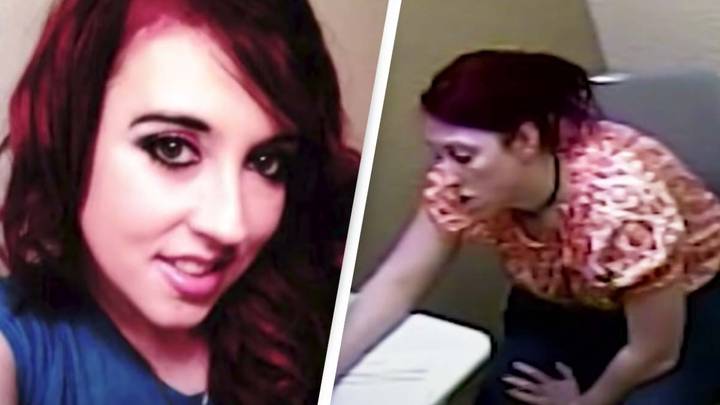 Featured Image Credit: YouTube/Law&Crime Network
A YouTuber who claimed to a 'victim' after her husband's murder slipped up during a police interview which helped investigators realise she was behind the crime.
Before investigators discovered her role in the killing, Titus County Sheriff's Office authorities in Texas rushed to Wohlford's house after she called her mother, Rosie, in a state of distress on 20 February 2015.
Wohlford had apparently been tied up and gagged by intruders. She also claimed that Ibarra was kidnapped after he was brutally attacked during the home invasion involving three masked men in the middle of the night.
Investigators looked into three men who they believed were responsible in some way - Jose Ponse, Johnathan Sanford and Octavious Rhymes.
However, investigators would soon discover that Wohlford was actually the mastermind behind the horrific plot.
Wohlford and Ibarra's marriage was tumultuous and the latter was allegedly abusive to his wife, who filed a complaint against him.
Ibarra's family denied the allegations.
Wohlford was a small YouTuber and she had dreams of becoming an actor.
In her videos she'd chat about her personal life and how she struggled to manage as a mother to five children.
She was 19 years old when she welcomed twins with her high school boyfriend. She met Ibarra in 2008 at a local tattoo shop and they soon started dating. In 2011, Wohlford welcomed another set of twins, this time with Ibarra and in 2013, when she was 24, she had a fifth child.
When Wohlford was brought in for questioning, she tried to point the blame on Johnathan Sanford.
She claimed she met him at the hospital while visiting a friend and that he was offended when she told him about her husband's alleged abusive behaviour.
Sanford was arrested along with his brother Jose Antonio Ponse and the two were charged with aggravated kidnapping.
However, the two men gave details about the incident and revealed that Wohlford and another accomplice - Rhymes - were involved in the killing.
After initially planning to spare Ibarra's life by planting meth in his car before calling the police, they decided it would be easier to murder him.
Wohlford lent a car for the men to use for their murder plan.
During an interrogation with police, investigators questioned how Wohlford was able to call her mum while bound and why she decided not to phone 911 first.
She claimed she could only dial with her face so couldn't call 911.
"Well, how did you dial your mother with your face?" Detective Ingram asked.
When she replied that she simply pressed the first number that came up, the detectives weren't buying it.
Ibarra's body was discovered in the remote woods of Sand Crossing in Camp County. He was shot dead.
Sanford and Ponse were charged with murder along with aggravated kidnapping. Samantha and Rhymes were charged on the same grounds when chats between the pair were discovered, disclosing their roles in the murder plot.
Ponse and Sanford received 50-year jail terms. Rhymes was given 93 years in prison and Wohlford was sentenced to 99 years.