Angus Cloud's mom speaks out for first time since his sudden death aged 25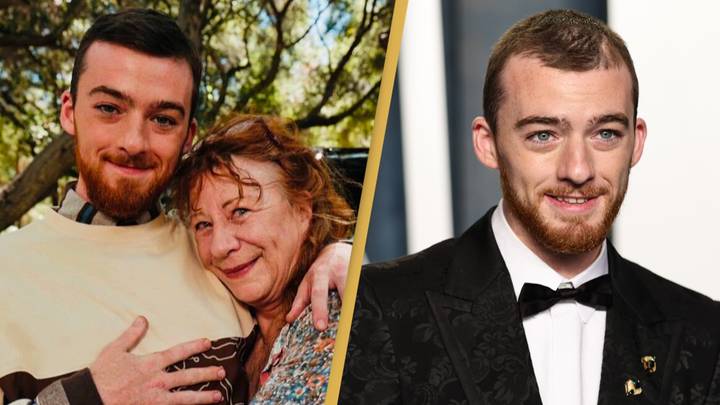 Featured Image Credit: COURTESY OF CLOUD FAMILY / Dimitrios Kambouris/WireImage
Angus Cloud's mother has spoken out about his sudden death at the age of 25.
The beloved Euphoria star passed away at his home in Oakland, California on July 31, which led to an outpouring of tributes.
A spokesperson for the Alameda County Coroner told Entertainment Tonight this month that the actor - whose full name was Conor Angus Cloud Hickey - died due to 'acute intoxication stemming from an accidental overdose of fentanyl, cocaine, and methamphetamine and benzodiazepines'.
Conditions like anxiety disorders, insomnia and seizures are often treated using benzodiazepines, which are depressant drugs.
In a heartbreaking interview with People, Angus' mother Lisa invited the publication to his childhood bedroom where the walls are covered with 'riotous graffiti' and 'doodles' which he began drawing in the third grade.
Lisa found her son slumped over his desk on the morning of July 31. It wasn't out of the ordinary for Angus to fall asleep by his desk, but when she approached him to say good morning, she immediately knew something was seriously wrong.
"I started shaking him and screaming. I pushed him hard, and he fell on the floor. I tried to resuscitate him — mouth to mouth — and I was compressing him," she told People.
"I was screaming for my neighbor because I didn't want to leave him and call 911, and I just kept at it until they took him away.
"I miss him so much. He was the love of my life."
In the months leading up to Angus' death, he had been grieving the loss of his father, Conor Hickey, who died on May 18 2023 aged 65, only three months after he was diagnosed with mesothelioma cancer caused by asbestos exposure.
"My son and his twin sisters were deeply grieving about their dad," Lisa said. "They were all devastated."
Lisa remembers her son being in 'decent spirits' the day before he passed away, as his uncle came over to help move furniture out of his bedroom. Angus' friend, Daniel Aguilera, came over to the family's house and the pair spent two hours painting a cardboard canvas and spray-painting.
That same night when Angus went to bed, he told his mother that he loved her and said: "I love you, mama. You're the best. I'll see you in the morning."
Angus rose to fame in 2019 as Fezco in the critically acclaimed HBO teen drama Euphoria.
After news of his death was announced, Euphoria creator Sam Levinson said: "There was no one quite like Angus.
"He was too special, too talented and way too young to leave us so soon.
"He also struggled, like many of us, with addiction and depression."
Levinson added: "I hope he knew how many hearts he touched.
"I loved him. I always will.
"Rest in peace and God Bless his family."