Kanye West says he lost $2 billion in one day after companies cut ties
Featured Image Credit: Drink Champs/YouTube/TalkTV
Kanye West has claimed he lost $2 billion in one day after a number of companies cut ties with him over anti-Semitic comments.
The rapper announced his losses in a post on Instagram a couple of days after Adidas declared plans to 'terminate [its] partnership with Ye immediately' as a result of a number of remarks he's made in recent weeks.
Earlier this month, West claimed he could 'say anti-Semitic s**t' without Adidas dropping him, and wrote on Twitter that he would go 'death con 3 ON JEWISH PEOPLE' - a statement which resulted in him being locked out of his Twitter account.
Adidas is far from the only business to cut ties with West as a result of his behaviour, with Gap, Balenciaga and CAA all declaring that they would no longer be associating with him.
Each loss no doubt had an impact on West, but Adidas is thought to have been the hardest-hitting, with Forbes reporting that the sportswear brand accounted for $1.5 billion of his net worth.
As a result, West lost his billionaire status when Adidas announced the termination of its partnership with him, but he has stressed that the losses haven't been the end of him.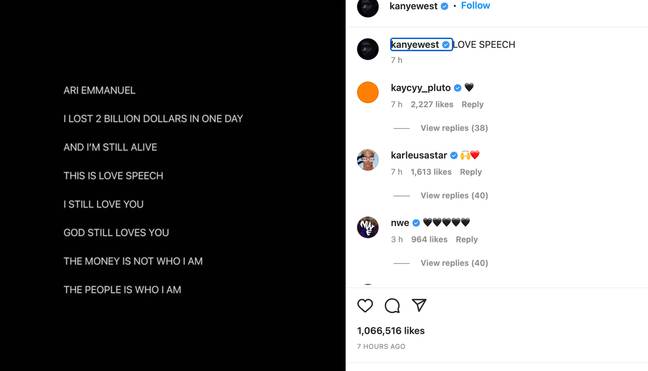 In a post on Instagram captioned 'Love Speech', West wrote: "Ari Emanuel. I lost 2 billion dollars in one day. And I'm still alive. This is love speech. I still love you. God still loves you. The money is not who I am. The people is who I am."
Emanuel is the CEO of Endeavor, a holding company for talent and media agencies, and recently he urged companies to stop doing business with West.
In a Financial Times op-ed, the CEO said fashion and entertainment brands that have collaborated with West on various projects need to 'speak out and take action'.
As well as his letter to Emanuel, West shared a meme which included two pictures of himself and read: "Ye has reportedly cut ties with Kanye West."
In an apparent reference to the various businesses that have ended their relationships with him, West added: "Had to cut ties bro."
In the wake of West's anti-Semitic comments, his ex-wife Kim Kardashian released a statement which stressed 'hate speech is never OK or excusable'.
"I stand together with the Jewish community and call on the terrible violence and hateful rhetoric towards them to come to an immediate end," she added on Twitter.