19-year-old influencer could be Italian queen after prince gave up the throne
Featured Image Credit: ABC News
An influencer could soon sit on the Italian throne after Italy's prince of Venice announced that he won't be laying claim to his country's crown.
On Wednesday (7 June), Prince Emanuele Filiberto of Savoy, 50, announced that he was abdicating.
He also revealed that he would be handing the title down to his 19-year-old daughter, Princess Vittoria of Savoy.
He told the Daily Telegraph: "I will, with great pleasure, step down and let her take on the role, which I'm sure she will do better than me."
"It won't be tomorrow or in one year, but when she is ready. It's important that the younger generation have a chance to put new, modern ideas into practice."
The teenager in question is Princess Vittoria of Savoy — a social media influencer who has over 81,900 followers on her Instagram account.
According to the New York Post, the Princess - full name Princess Vittoria Cristina Adelaide Chiara Maria di Savoia - resides in the UK and splits her time between Paris and Geneva.
The heir to the Italian throne studies at and also models for editorial and fashion companies on the side
Last year, she posed for the avant-garde clothing company GEN FREY, and has also graced the cover of Vanity Fair magazine. She is currently signed to Karin modelling agency in Paris.
It's said that if Vittoria ascends the throne and becomes the monarch of the Savoy household, she will 'be in charge of the family's charities, which spent more than $1 million (£803,000) on projects last year'.
Of course, the House of Savoy is one of Europe's oldest dynasties and one whose rules have recently been broken.
In 2020, Filiberto announced that he was breaking the Salic Law of Succession.
According to the Encyclopaedia Britannica, the Salic Law of Succession is 'the rule by which, in certain sovereign dynasties, persons descended from a previous sovereign only through a woman were excluded from succession to the throne'.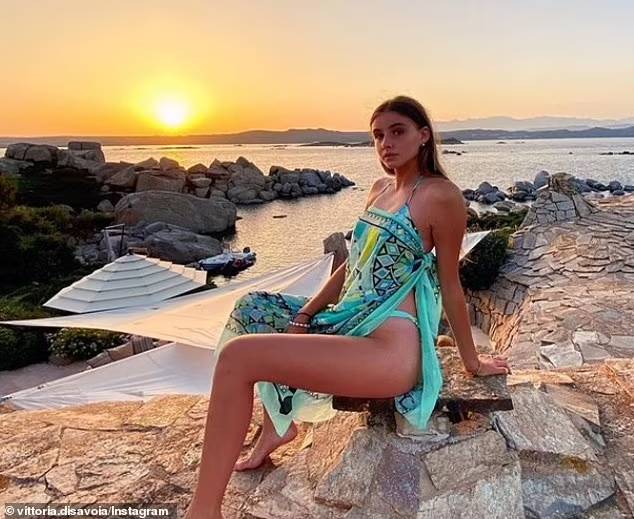 The move meant that Vittoria would be able to take over from her father, something that could happen sometime soon.
At the time the law was revoked, Filiberto said that it was 'in the name of progressivism'.
However, according to Italics Mag, many saw the sanction removal as a 'calculating manoeuvre designed to sidestep the Italian constitutional restrictions on male monarchs'.
Italy's Prince of Venice said that 'it is important that she doesn't become the heir at too late a stage in her life'.
So it looks like we're going to be witnessing the coronation of the 19-year-old influencer very soon - a real-life Princess Diaries, huh?