Tesla owner says he's been locked out of his car until he pays $26,000 for a new battery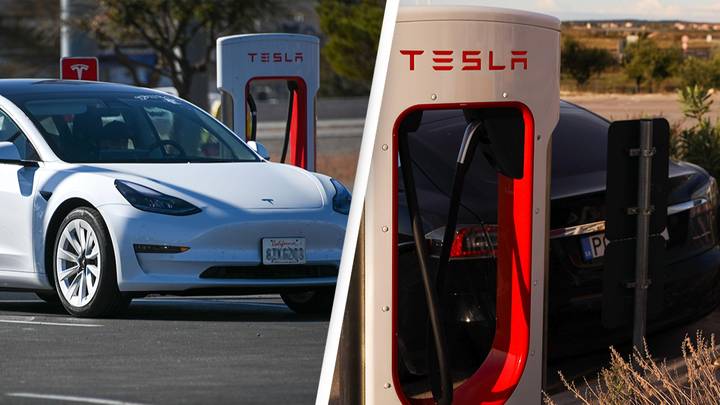 Featured Image Credit: Sipa US/Alamy Stock Photo
A Tesla owner has revealed that when he was locked out of his high tech car, he was told he'd have to fork out $26,000 for a new battery.
Mario Zelaya, from Canada, took to TikTok to explain the situation, slamming his $140,000 Tesla vehicle as a 'piece of trash' after the car automatically locked itself when the battery died.
Take a look at the shocking turn of events below:
He captioned the video: "$26K for a new battery. Locked out of car. Recalls are needed."
The owner went on to explain that he decided to to sell the car after the main battery died and he wasn't prepared to pay the hefty price for a replacement.
But, at first, he couldn't even sell the car because the proof of ownership papers were inside, and it was completely locked because of the dead battery.
While some people suggested that Zelaya could dismantle the car manually to gain access, he said he 'didn't have time for that'.
Thankfully, he was able to get a copy of the the papers for $30 elsewhere.
The frustrated motorist said he bought the car back in 2013, but its model and additional models from 2014 have a problem that causes fluid to leak onto their batteries - leaving owners potentially thousands of pocket.
Zelaya added: "I got Transport Canada involved, and they actually did an investigation on the car. Not only did they do an investigation on this car, they're gonna be doing one that Tesla doesn't realise is coming up."
He explained that he's now been in contact with another Tesla owner who has experienced exactly the same problem.
"Tesla's trying to sweep it under the rug," he said. "They won't give them any explanation of why their battery died."
He said the pre-existing problem in the models was being exacerbated by the fact that Tesla services do not include a check of the very expensive battery.
"I'll never buy another Tesla again," he said. "That's the long way of me saying stay the f**k away from Teslas. They're brutal cars, brutal manufacturing, and even worse, they're a 10-year-old company."
Thankfully for Zelaya, he was able to sell the unwanted car, and he revealed in another TikTok that the new owner plans to take the vehicle apart to charge it.
"That's going to be the end of my Tesla journey. It's out of my life. Keep it out of yours," he said.
As reported by Fox News, Zelaya is far from the first person to speak out against the cars, and in August, Norwegian owners desperately tried to get Elon Musk's attention about problems with their cars by going on hunger strike.
UNILAD has approached Tesla for comment.