Woman Who Had Rare Condition Where Skin Grew Too Fast Dies Aged 32
Featured Image Credit: SWNS
A woman with a severe genetic disorder that affected her skin has passed away.
Hannah Betts was born with Harlequin ichthyosis – a rare genetic disorder which sees babies born prematurely with very hard, thick skin covering most of their bodies.
The 32-year-old, from Great Yarmouth in Norfolk, sadly passed away on Wednesday, 18 May.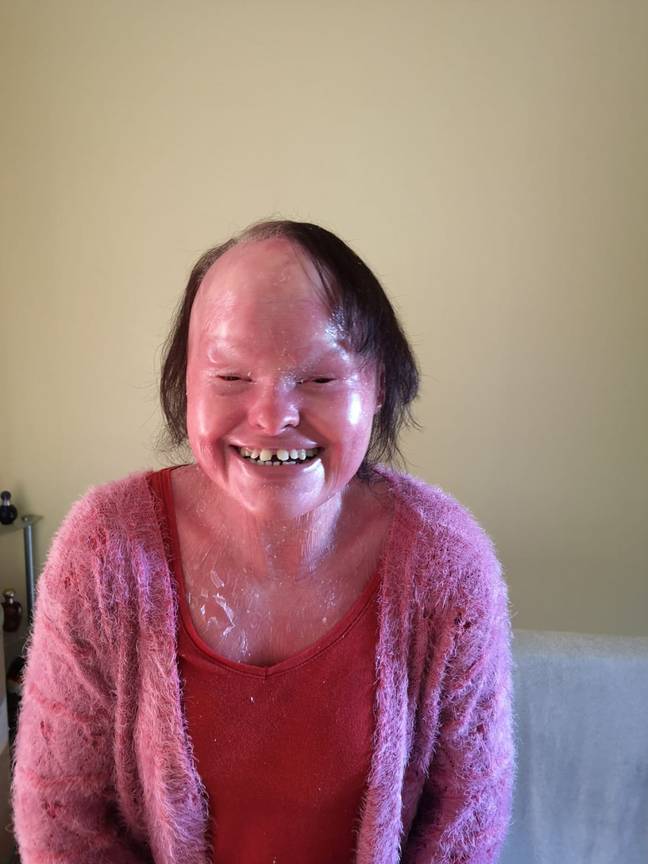 Hannah had also been diagnosed with T-cell lymphoma in February 2021. She underwent chemotherapy and immunotherapy.
The 32-year-old contracted coronavirus in February 2022 and was admitted to James Paget Hospital in Great Yarmouth.
Despite recovering from Covid, Hannah passed away in hospital as a result of her battle with cancer.
Her sister, Lucy, called her an 'inspiration' in how she 'never stopped smiling'.
Lucy said: "I still don't think I can believe she's gone. Sometimes I want to see her so badly that I feel I can't breathe. It's a very big rollercoaster of emotions. It's really hard."
Harlequin ichthyosis is caused by mutations in the ABCA12 gene. Symptoms not only include thickened skin but 'plates of thick skin that crack and split apart'.
According to the Ichthyosis Support Group website: "The skin is covered in tight, thick, plates of hard scale and resembles armour plating or the harlequin suit of a jester. It splits at several areas causing deep cracks.
"The face looks stretched with turned out lips and eyelids, and the ears, hands and feet may be hidden in the scale. The eyes may be invisible because they are temporarily covered by the swollen eyelids."
Five children are born with Harlequin ichthyosis in the UK every year and the condition is incurable. However, the site notes how 'there are families with one or more children with Harlequin ichthyosis who live happy and relatively normal lives [and] there are one or two adults with Harlequin ichthyosis who now have their own children'.
Lucy also has Harlequin ichthyosis which she noted as making her and Hannah's bond 'so strong'.
She said: "We went through a lot together that we couldn't explain to anyone else. I knew exactly how she felt.
"She stayed with me for the last couple of years. My whole life revolved around her.
"We were so lucky to have her in our lives. She made everything so much better. She made me laugh like no one else could. She loved everything pink and sparkly."
Lucy noted how 'loving' her sister was and explained how she will 'always remember [Hannah's] smile',
She said: "She was so honest. If you wanted to know if your bum looked big in something we would ask Hannah.
"If we were out and someone made comments about us then Hannah would tell them in no uncertain terms to go away."
Hannah's parents, Clive and Jan Betts also reflected on how 'inspirational' their daughter was.
Clive said: "She had the best smile ever. She fought bravely and unfortunately her little body just couldn't take it anymore. As her father I'm so proud of her."
Jan explained how music was Hannah's 'biggest passion' and that her daughter 'loved singing and dancing'.
She concluded: "[Hannah] was such an inspiration to so many people. She never stopped smiling.
"She will be so sadly missed by so many people."
If you've been affected by any of these issues and want to speak to someone in confidence, contact the Ichthyosis Support Group on 0800 368 9621 or [email protected]