Rarely-seen 9/11 footage shows Twin Towers collapsing from below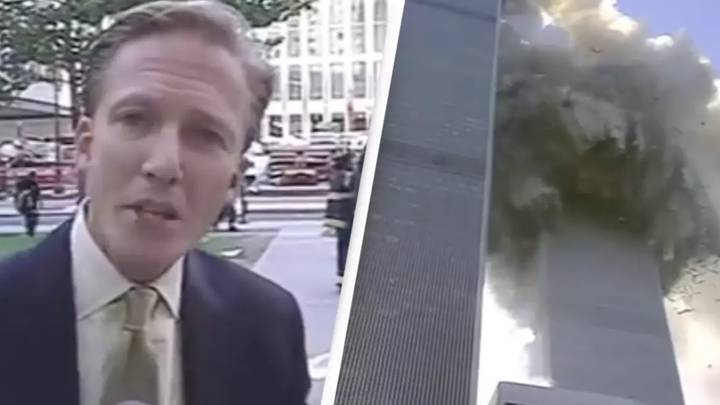 Featured Image Credit: ABC
Warning: Contains footage some readers may find upsetting
ABC's NJ Burkett was on the scene reporting from just below the World Trade Center shortly after the first plane had hit and the South Tower began to collapse.
Burkett and his cameraman were then forced to fun for their lives.
You can see the footage here:
Speaking about the incident in 2021, which was the 20th anniversary of the attack, Burkett told ABC: "It's very difficult to look at the video, it's very difficult to hear my voice in that video because had things gone the other way that would be the last 20 seconds or so of my life."
He then opened up about the profound impact the moment had on him.
"I've spent the last two decades or so running from 9/11, my way of coping with the post traumatic stress has been to pour myself into my work," he said.
"I decided this year that I needed to talk about it, that I needed to face it and begin the process of coping with it and coming to terms with it."
The clip was shared on Reddit last year, where users were left horrified by what they saw.
One wrote: "You can hear the absolute fear in his voice when he gets to 'huge explosion, raining debris on all of us... We gotta get out of here'."
Another said: "Maybe it just goes unsaid, but my strongest feeling that day was simply not knowing if it was over or if we were just seeing the beginning of something.
"At least a few days passed before that feeling started to go away."
While a third commented: "Still hard to wrap my head around what happened that day. So many people dying terrible deaths - just f**king awful."
It's been 22 years since the horrific attack on New York that left almost 3,000 people dead.
The horrendous terrorist attacks on 11th September 2001 claimed the lives of nearly 3,000 people and in the immediate aftermath, focus turned to the victims and the perpetrators.
New York City was forever changed and life shifted drastically for those who'd survived the 9/11 terrorist attacks.
In the clip, which was shared on TikTok, we first see the students as they're laughing around and studying, before a follow-up clip of them watching on in silence as the terrifying news unfolds.
A newsreader can be heard discussing how a plane had crashed into the World Trade Center towers and the Pentagon, causing one student to cover his mouth in shock and another to say: "Oh my gosh."