Teen Tracking Elon Musk's Private Jets Has Backup Plan If His Twitter Account Is Deleted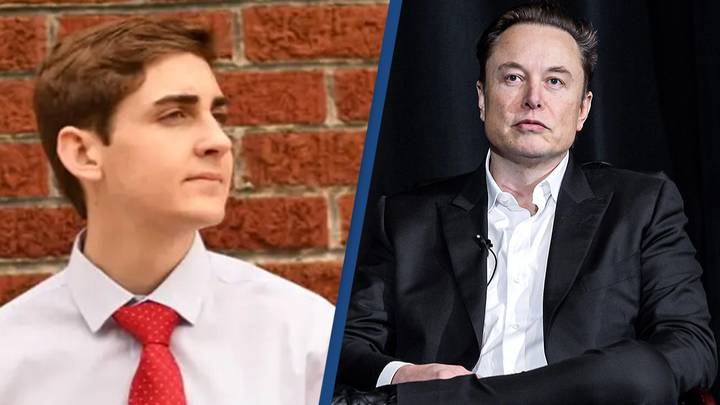 Featured Image Credit: @JxckSweeney/Twitter/Alamy
The teenager who has been tracking Elon Musk's private jets has a backup plan if his Twitter account is deleted.
Jack Sweeney set up @ElonJet, which tracks the movements of the SpaceX and Tesla CEO's private plane and posts real-time updates on Twitter using publicly-available data.
The 19-year-old made headlines earlier this year after Musk apparently offered him $5,000 (£3,900) to take it down amid security concerns.
Recognising that he was dealing with the richest person on the planet, University of Central Florida (UCF) student Jack asked for $50,000 (£39,000), but he said Musk decided against paying him up, instead opting to block him.
Now that Musk has struck a deal to buy Twitter for $44 billion (£35.1 billion), Sweeney reckons his account could be at threat – so he's set up shop on other platforms too.
In a tweet shared with the account's 428,000+ followers, he shared links to follow ElonJet on Facebook, Instagram, Telegram and other platforms.
"Just in case this account disappears on Twitter, it doesn't mean the end of ElonJet," he wrote.
Speaking to The Guardian earlier this year, Sweeney said he initially set up the account because he was a fan of Musk – though he never imagined it would result in him entering negotiations with the man himself.
He said: "I created it [the account] because I'm really interested in Elon Musk, and Tesla and SpaceX – and it would be interesting to see where he goes and what business he's up to."
After initially being offered $5,000 to take it down, Jack tried to play hardball.
He continued: "I asked for $50,000, he said 'thinking about it', then after a while last week he said 'I don't think it's right to pay to take this down', and just the other night he blocked me.
"I asked for 50 grand, because it would be nice to help for college and I also thought it would be cool if I could buy a Tesla, you know like a Model 3 or something."
But instead of paying him $50,000 to get rid of the account Musk has decided to fork out $44 billion to buy the whole of Twitter.
In a joint statement with the company, Musk said that he wants to make the service 'better than ever' with new features, such as getting rid of automated 'spam bots' and making its algorithms open to the public to increase trust.
"Free speech is the bedrock of a functioning democracy, and Twitter is the digital town square where matters vital to the future of humanity are debated," he said.