People shocked after finding out the real reason YouTube was created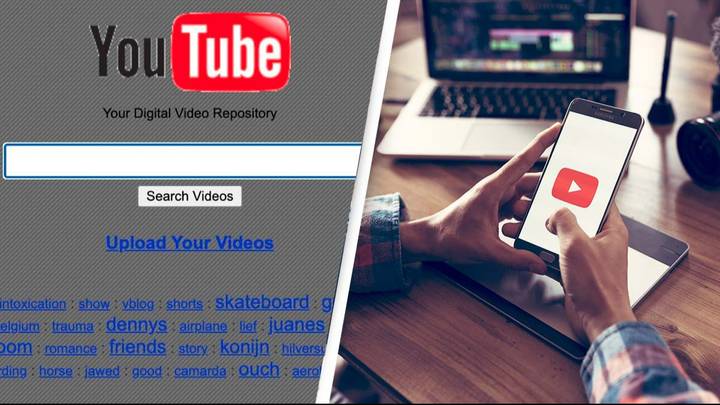 Featured Image Credit: YouTube/Shutterstock
People are learning the real reason YouTube was originally created and they're shocked to discover what it was supposed to be for.
If you've spent any time at all on the internet, and let's face it if you're reading this then you must do, then you know all about YouTube.
If you can think of it, chances are there's a video of it somewhere on YouTube, and the site has even become a TV channel in its own right after creating its own shows.
Hundreds of hours of fresh content are uploaded to the site every minute and it's hard to image what the internet would be like without it.
However, YouTube was originally made with a very different purpose in mind, and the real reason the site was created has left people shocked.
Back when it first launched on 14 February, 2005, and that date should give you a clue, it was supposed to be a site for video dating where people could upload footage of themselves talking about their dream partner.
YouTube co-founder Steve Chen thought people would love a site where they could post their dating videos for the world to see and maybe even end up meeting 'the one'.
Speaking at the SXSW conference back in 2016, he said: "We always thought there was something with video there, but what would be the actual practical application?
"We thought dating would be the obvious choice."
It turns out that pretty much no one else thought that, as nobody posted a video on YouTube right in those early days of the site.
Chen explained that they even went on Craigslist and offered women $20 to upload dating videos of themselves on the site, which didn't work.
It wasn't until about two months later that the site's first actual video got published featuring YouTube co-founder Jawed Karim at San Diego Zoo, in a video uncreatively titled 'Me at the zoo' which has since been watched over 240 million times.
Karim had added that the site's original dating pitch had given it the slogan 'tune in, hook up', a far cry from the 'broadcast yourself' motif it now carries.
People learning this have been stunned to learn what YouTube was originally supposed to be for, but many thought the way the site's creators made it succeed after early problems was 'amazing'.
One person said YouTube was an example why 'never giving up' worked, and loads said they 'can't believe' YouTube started life as a dating site, though it didn't stay that way for long.
A year and a half after the first ever video on the site YouTube was bought by Google for $1.65 billion, which seems like a bargain these days since it's now the second most visited site on the internet after Google itself and brings in billions of dollars worth of revenue.