Ukrainians open up on what life is like six months to the day since Russia invaded
Featured Image Credit: Supplied
"We will face many challenges, but we have not been broken for centuries and will not be broken now. Glory to Ukraine!"
Those are the words of one determined Ukrainian, speaking six months after Vladimir Putin announced a 'special military operation' and sent Russian soldiers over the border into Ukraine on 24 February. Over the following weeks and months, Russia ravaged towns and cities with missiles, sought to gain control of the nation's capital and caused the deaths of 5,514 civilians in the country.
The Russian president has not given up, but neither have the Ukrainian people. While millions have been forced to flee the country to seek refuge elsewhere, millions of others remain and are learning to adapt to a new way of life; one involving the sound of sirens and the underlying fear of attack.
Yuliia Snihyr, a 29-year-old product designer living in the Kyiv region, initially went to stay with family in a safer area of Ukraine when the war broke out, but upon realising it would 'last a long time', she and her boyfriend returned home to 'learn to live in the new reality'.
Prior to the invasion, Yuliia and her boyfriend were 'making plans for the future', including making repairs to their apartment and going on vacation. Come 24 February, Yuliia said Ukrainians 'died inside' and were each 'reborn in [their] own way'.
"Personally, I began to realise more what a strong spirit our people have. And it was even more confirmed that Ukraine is the best country to live in. Not without its problems, but all solvable," she told UNILAD.
"After the war started I realised that we are not immortal," Yuliia continued. "And you can work as much as you want, but you can't buy the time you spend with your loved ones... I have turned off the mode of delayed life - because we are well aware that today we are and tomorrow we may not be. This is the reality of each of us."
Iryna Kotova, from Brovary near Kyiv, has also spent the last six months becoming accustomed to life in a country at war. She has lost her job as a pharmacist, and her health has 'deteriorated significantly' due to nights spent hiding in the basement at her mother's house amid cold weather.
Iryna's joints started to crack badly after sleeping on the concrete floor and she developed a bad cough from the concrete dust, but six months on her mental state is stronger than she anticipated. Now, she remains focused on a 'complete victory' and making life better for the next generation.
Iryna was at home, sleeping, when the first bomb landed on 24 February. She said the sound 'cannot be compared to anything else', and understood the war had begun - an act she described as 'savagery' in the 21st century.
"The last months, and especially the weeks before the resumption of the active phase of the war, were very tense, very anxious. We all knew something was going to happen, although we really didn't want to believe it," she told UNILAD.
The 30-year-old described her life before the war as 'peaceful', saying she was 'doing what [she] loved' after managing to secure the pharmacy job she 'really wanted'. She had 'the best partner' she could have and had plans to go on holiday.
"Maybe my life was not as beautiful as on Instagram - for example, I have a very old and bad apartment," she said. "But it was my life and I lived it the way I liked. With the beginning of the war, everything disappeared."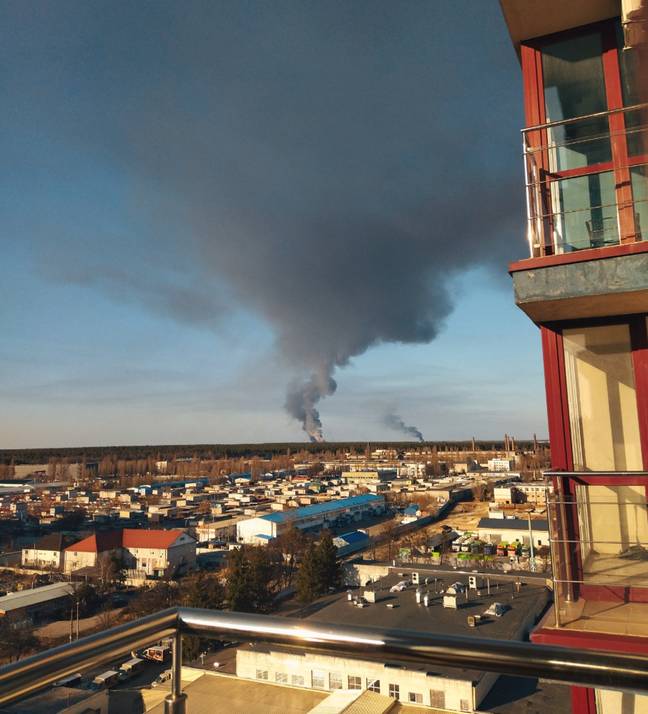 Though her life changed in that moment, Iryna admitted she did feel some sense of 'relief' when the war actually began. Acknowledging this sounds 'strange', she explained: "The last weeks before the start – it was such pressure, uncertainty, whether something will happen or not, and therefore fear, you don't know what to do, a state like a panic attack. And when it started, everything immediately became clear. There is an enemy, and there is us, and there is our country, which must be defended."
Iryna recalled how, over the last six months, Russians have bombed greenhouses, factories and warehouses housing food. Her partner left for Canada with her children, and she was laid off at work due to a lack of money.
For Yullia, when the war broke out 'everything happened so fast, as if in a dream'. She spent the first day travelling to stay with family, watching videos of cities being bombed, and worrying she'd get a call to say her relatives had been killed.
As the days went on, she organised a fundraiser for the Ukrainian army and began sending money to various foundations in a bid to support her country, noting 'the first months were hard'. She recalls struggling to buy 'anything' at the shops, and living with the question of how long things would go on.
Meanwhile, Iryna made an effort to stock up on food supplies and medicine, and played her part by sending medicines and food to soldiers fighting in the war. Having lost her job, she now hopes to go abroad to find a job and set an example for her mother and sister, who aren't ready to leave the country just yet.
Iryna is still worried about her friends who are in the army, but she is 'proud' and know they 'protect her' and the country.
"The first days [of war] were hard, but later it became easier because we got used to it," she said. "It is very important to get used to it. Emotions become less intense, they do not distract you. You see... here in Ukraine, we all know what we need, what we should do. "
Like Yuliia's donations, everyone is doing their bit, with Iryna describing volunteers who are sewing clothes, making food and helping to clean up damaged cities, and musicians who put on charity concerts.
Yuliia told UNILAD 'things got better' after a while, and she has now adapted to 'living and working under the sound of sirens and to martial law in general'. More recently she started meeting up with friends, and she continues to work at home, like she did during the coronavirus pandemic.
The city in which she lives has not been targeted by Russians, but residents are subject to curfew and have to have ID checks if they go to the capital.
Under this new normal, Yuliia stressed the mood is a 'fighting' one. Iryna shares the same belief, claiming it is too late for Russia to save face due to their 'inhumane' actions. Ukrainians 'can't yet plan what will happen next', but she knows 'the war won't end quickly'. Until then, Iryna said: "We must do everything so that our victory comes!"
Many people are 'mentally exhausted', Yuliia admitted, but they remain determined.
"The first few days we were soft, many trying to get through to the Russians," she said. "But with every missile, and after the news of all the atrocities in Bucha, Irpin, Gostomel, Mariupol, Kharkiv, Mykolaiv - we will not forgive. No one and never. No one is in the mood for a truce, only victory. The price is too high and must be paid."
If you would like to donate to the Red Cross Emergency Appeal, which will help provide food, medicines and basic medical supplies, shelter and water to those in Ukraine, click here for more information