Rare 'one-in-30-million' lobster saved from being eaten at restaurant
Featured Image Credit: Wagmtv / Kristoffer Tripplaar / Alamy
A rare 'one-in-30-million' lobster was just about saved from being eaten at a Red Lobster restaurant in Mississippi.
Well, on Monday, a lobster, which has been dubbed 'Biscuit' was moments away from becoming someone else's dinner. You can watch it being rescued below:
Nicole Bott, senior director of communications at Red Lobster has said: "On the rare occasion we receive a lobster like Biscuit, we have to ask, why.
"We are hearing from our fishermen in the area where both Cheddar and Biscuit were caught that they are seeing a lot of orange lobsters this time of year.
"This seems to indicate the colouring is coming from a different food source. We're excited to support Ripley's research into this and learn more about our changing lobster populations."
Ripley's Aquarium of the Smokies Director of Husbandry, Jared Durrett, is trying to get to the bottom of what's going on.
Durrett said in a statement: "Orange lobsters are uncommon, but perhaps not as rare as we first thought.
"Lobsters obtain their colour through the pigments they ingest in their diet.
"If these orange lobsters are being harvested from the same region, perhaps their localised diet contains a pigment that, when paired with the lobster's genetics, creates the orange coloration we are seeing."
He added: "We plan to dive deeper into this and study the reasons why this abnormality is occurring more often.
"Our partnership with Red Lobster will allow us to capture data from fishermen, which typically is not easy to come by due to confidentiality."
Last month, the manager at the Red Lobster Mario Roque, who rallied to save 'Cheddar', said: "Sometimes ordinary miracles happen, and Cheddar is one of them.
"A group of incredible people helped us make this possible. We are so honoured to have been able to save Cheddar and find her a good home."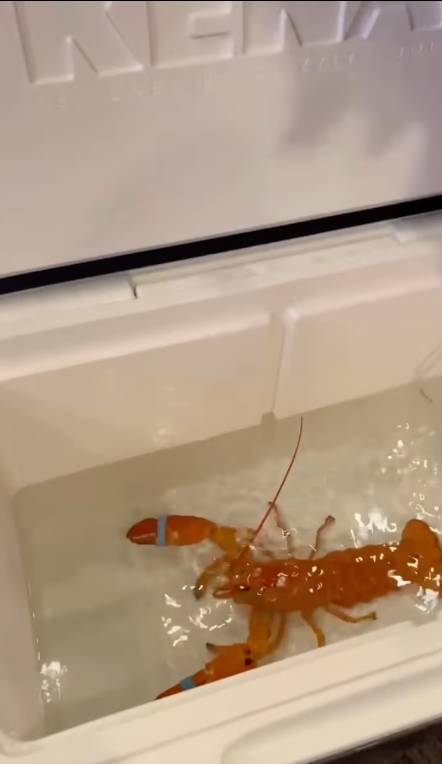 Bott added: "It is an honour to be able to share the story of Cheddar and provide her a new home where she can be enjoyed by many for years to come, all from the safety of her tank."
However, PETA is calling for the lobster to be relinquished from the aquarium and set free into the wild.
A spokesperson for the animal rights organisation told Delish: "Most lobsters turn a bright reddish hue after they've been plunged into boiling water and died in agony, but Cheddar is ruddy by nature, and she deserves to be returned to her ocean home instead of sentenced to a life of deprivation in an aquarium tank."
They added: "Lobsters are individuals who use complicated signals to explore their surroundings and journey 100 miles or more each year—and PETA encourages everyone to honour every lobster and other sea life by choosing to eat fish-free fillets, faux lobster, crabless cakes, and other vegan vittles."