Miley Cyrus and Dolly Parton song about accepting others banned for being 'too controversial'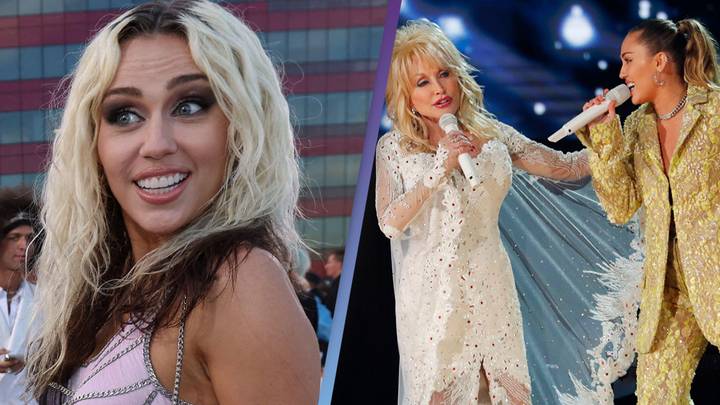 Featured Image Credit: REUTERS / Alamy Stock Photo
A Miley Cyrus and Dolly Parton song has caused a huge fuss at an elementary school in Wisconsin after it was banned from its spring concert setlist.
Mum Sarah Schindler told a local news station that her daughter Audrey can barely contain her excitement about singing the track at the spring concert at Heyer Elementary in Waukesha, Wisconsin.
But Audrey's spring concert dreams were shattered on Wednesday (22 March) when the first grader came home and told her mum that her favourite song had been pulled from the show.
"She said, 'We're not allowed to sing those songs anymore,'" mum Schindler told Fox6.
Schindler got in touch with her daughter's teacher, Melissa Tempel, the school's principal and the school district superintendent.
It later emerged that the Cyrus and Parton collab was pulled from the line-up because school officials thought the lyrics could be deemed controversial.
This would be understandable had the song been from Cyrus' twerk-filled Bangerz era, where the former Disney star's ever-present tongue gave us iconic moments like her 'Feelin' Myself' rap, but 'Rainbowland' has a deeper meaning of acceptance.
Some fans of the 30-year-old 'Flowers' hit-maker believe the track is an ode to the LGBTQ+ community.
Lyrics to the 2017 song, which is featured on Cyrus' album Younger Now, includes the lines: "Wouldn't it be nice to live in paradise / Where we're free to be exactly who we are," plus "Let's all dig down deep inside / Brush the judgment and fear aside."
Parton previously said that the song is meant to offer hope during dark times.
"It's really about if we could love one another a little better or be a little kinder, be a little sweeter, we could live in rainbowland," the 77-year-old told Taste of Country.
"It's really just about dreaming and hoping that we could all do better. It's a good song for the times right now."
Audrey's teacher Ms Tempel tweeted the lyrics of the song and confirmed the song had been cancelled and tagged a civil rights Twitter page as well as both Cyrus and Parton.
She shared: "My first graders were so excited to sing Rainbowland for our spring concert but it has been vetoed by our administration. When will it end? @waukeshaschools @DollyParton @MileyCyrus @mileyworld @[email protected] #publicschools."
Schindler also said: "I think, for some reason, the district sees rainbows as a political symbol."
Superintendent Jim Serbet confirmed that 'Rainbowland' was dropped from the spring concert and cited a specific school board policy. "It was determined that 'Rainbowland' could be perceived as controversial," he told Fox6.
When the news station pressed the superintend for a specific reason why the song was removed, he explained the district questioned 'whether it was appropriate for the age and maturity level of students' and the 'social or personal impacts' on them.
The other songs on the set list includes 'What a Wonderful World' by Louis Armstrong, 'Rainbow Connection' by the one and only Kermit the Frog.
The Muppet song will remain part of the concert.