Man who committed triple murder of his neighbors asks for death sentence after he was found guilty
Featured Image Credit: CBS 17
A man convicted of murdering three people in their home asked to be given the death sentence.
Jon Frederick Sander was convicted of murdering husband and wife Sandy Mazzella and Stephanie Ann Mazzella, and Sandy's mother Elaine Mazzella at their home in North Carolina on 25 March 2016.
The nature of the conviction meant that a life sentence would be the starting point. This is the equivalent of a 'whole life tariff' in the UK, which means that a criminal will spend the rest of their life in prison with no parole.
However, in Sander's case, there was another option available. The seriousness of the crime was high enough that it crossed the threshold for the death penalty. The jury had the unenviable task of deciding between execution and a whole life sentence.
Superior Court Judge Graham Shirley told Sander that he would have to 'be careful'. Sander responded: "Put me to death, that's what's happening anyway."
Sal Mezzella, the husband of Elaine, told his wife's killer: "Though we will forever live with the loss of my precious family members, I do not hate you. You heard what I said? I do not hate you."
Sander responded: "Wait till I'm done with my speech," while sarcastically applauding.
The defendant then went on a rant lasting some 27 minutes. In it he protested against the justice system, and made wild accusations against the victims and their families.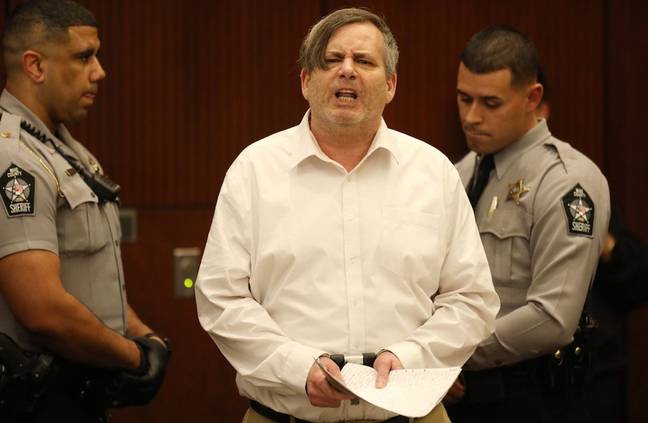 He said: "Everything's a lie and a scam. This whole thing was fabricated. Sal killed his family for the insurance money."
In the end, despite Sander doing little to ingratiate himself with the jury, to put it mildly, he was spared the death penalty, and instead handed a life sentence.
Judge Shirley ripped into Sander in his closing remarks.
He said: "You love the spotlight. You've delighted in your celebrity. Let me tell you something, as horrific as this crime was, when the light goes out in this courtroom today ... the memory of you in the eyes of the public is going to fade, and it's going to fade quickly.
"Come Monday, they're going to be watching something else. They won't care about you. They won't care about this trial. They look for entertainment. You'll no longer matter in their eyes. You won't even be a footnote."
The Mazzellas had taken out a restraining order against their neighbour Sander in February 2016 after tensions over a landscaping business they had run together as well as allegations that Sander had touched a member of the family inappropriately broke down their relationship.
Sander claimed in a custody interview that the allegation had sent him over the edge and that he had wanted to 'get even'.