Incredible Hidden City Built Under Helsinki For Nuclear Apocalypse
Featured Image Credit: Getty
There's an entire city sitting beneath Finland's capital, complete with a playground, hockey rink, and swimming pool.
Finland looks set to join NATO, something that has caused a stir with their neighbour Russia.
The underground city was born out of a need for Finland to protect itself, as the country wasn't protected by the military alliance.
In the past, Finland had chosen not to join NATO to cool the concerns of Russia; however, as Vladimir Putin's invasion of Ukraine continues, Finland is rethinking.
With Finnish public support for joining the alliance went up from 30% before the war to 70%.
This change in public opinion was reflected in Finland's leaders announcing on Thursday, 12 March, that the country should apply to join NATO 'without delay', ABC reports.
While the alliance would certainly help protect Finland in the future, they do have a pretty impressive underground city built to secure the safety of their citizens.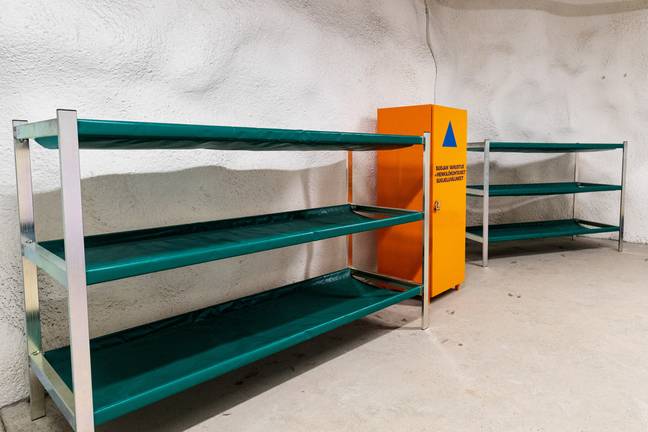 Reportedly, there are over 5,000 bomb shelters in the capital, Helsinki, with more than 50,000 reported across the country.
The staggering number of bunkers comes from the legal requirement in Finland for all buildings over a certain size to be equipped with shelters.
With researcher from the Finnish Institute for International Affairs, Charly Salonius-Pasternak, said of the defence system: "There's a historic sense that you should always be prepared. It might not be this generation or the next generation, but Russia is likely to attack Finland in some way."
While these bunkers aren't being utilised, they're doubling up as recreational space for the public to use.
Some have turned into hockey rinks, a playground, and a swimming pool that make up a secret city 25 metres below the ground.
The below surface city stretches for 200 miles, covering about 10 million square metres, the Mirror reports.
Complete with beds for the city's residents, the underground compound is designed to withstand a nuclear attack.
While the idea of an underground city sounds pretty cool, it's built out of necessity.
Tomi Rask from the Helsinki's Civil Defense Department said: "We have to take care of the citizens, that's the main reason we have this system."
While Finland joining NATO would further strengthen the country's pretty impressive defences, some aren't so sure about membership.
Politician Veronika Honkasalo said: "I'm afraid that NATO membership will increase actually the tensions in the Baltic Sea region and also will increase the tensions in Finland, especially regarding the eastern border."