Hugh Hefner's ex explains 'cleanest way' she dealt with his 'unprotected' orgies
Featured Image Credit: AFF/ZUMA Press, Inc./Alamy Stock Photo
Holly Madison and Bridget Marquardt, who were both considered 'main girlfriends' of Hefner, took part in the docu-series Secrets of Playboy that was released earlier this year and shared shocking revelations about the infamous mogul and his mansion.
During a recent appearance on the Juicy Scoop podcast the two women divulge more details, with Marquet recounting the first orgy she ever saw as well as how she 'cleanly' dealt with unprotected sex.
Opening up about seeing her first orgy at the mansion she said: "I was still just gonna watch and then [one of the other Playmates] was like, 'Aren't you gonna go?' It was like, 'You need to go.'
"And I was like, 'I would rather not.' And she's like, 'Well, then you probably won't be invited back.'
"So then I was like, 'OK.' And I'd seen what everybody else was doing, so I knew that this was, like, a 10-second thing. I mean, definitely no more than a minute."
Marquet went on to say that these group sex encounters would often be done with condoms, so she would try and get in first.
She went on: "You were hoping everyone's in the same situation, and there is a doctor on staff. You're hoping everybody is being checked out, and everybody is being - I say this in quotes - 'monogamous' to that relationship, but you don't know.
"If there's new girls coming up, which there often were, like, I just wanted to be first and be done. And I felt like that was the cleanest way."
Madison claimed Hefner would often take nude photos of the girls while intoxicated and became fearful of the 'mountain of revenge porn' he possessed.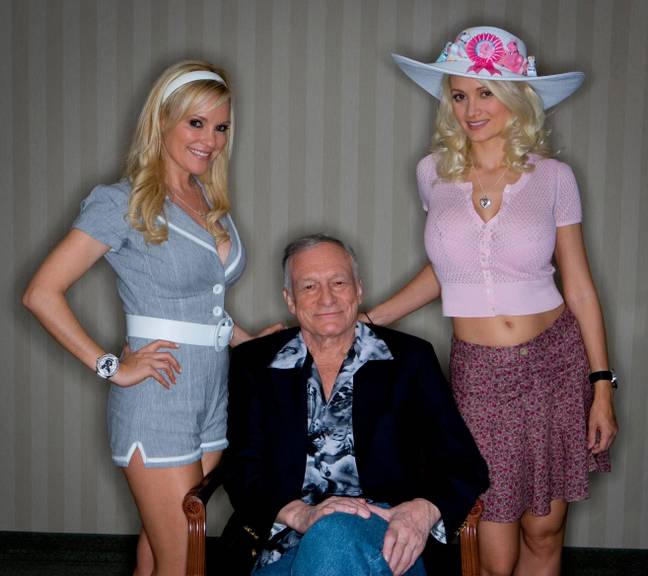 In the 10-part series Secrets of Playboy Madison, who dated Hefner for eight years, detailed how the Playboy boss 'didn't want to use protection', and that he would try and ply the women with Quaalude, which he nicknamed 'thigh openers'.
Madison recalled her first time going out with Hefner when he presented her with a Quaalude'.
And while Madison turned down the illegal substance, many Playmate hopefuls accepted.
In the documentary, she said: "They weren't commonly available then — I don't even know exactly how he was getting them.
"I know most girls my age were not doing them, and didn't know what they made you feel like. And I'm sure a lot of those girls didn't know what they were at all."