A family in the US have paid tribute to their son after he died when a hole he dug on the beach collapsed.
Levi Caverly, 18, was digging a large hole with his 17-year-old sister at Toms River beach, New Jersey, on Tuesday (17 May) when it collapsed and they became trapped.
His sister was rescued, but Levi died at the scene.
Paying tribute to his son, Todd Caverly said in a statement: "Levi was himself. He was odd. He was quirky. He was not real concerned with what others thought. He knew Jesus Christ.
"He was involved in the worship team at church, and was the drummer in a teen/young adult worship band. He was a tech nut and loved to program.
"The truth is that Scripture says that all our days are numbered. That there is nothing we can do to add a single hour to our life. He knew that."
His mum, Angela, is also finding comfort in her religion.
She told NJ Advance Media yesterday (Wednesday 18 May): "We had lots of people trying to help and we're very grateful for that.
"We know he's with Jesus and smiling down on us."
The family were visiting from Union, Maine, and Angela said her daughter was well enough to drive them home, having been treated for minor injuries after being rescued from the collapsed hole.
Angela said: "Physically, my daughter is OK. She's helping drive us home right now.
"This was our first time (in Toms River). We came to try to have a family vacation.
"It is what it is. You can't change it."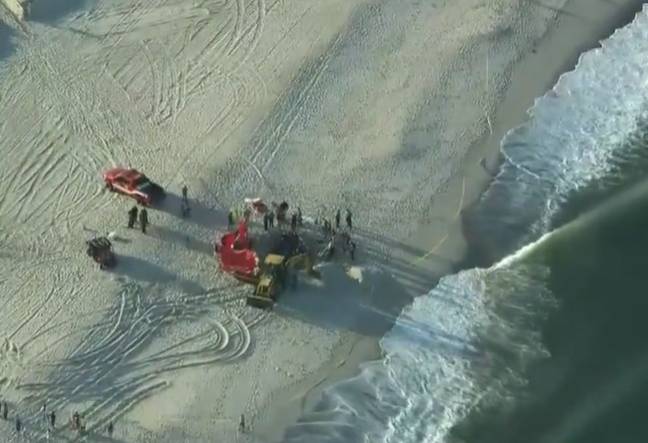 Following the hole collapse, the Toms River Police Department released a statement on Facebook confirming the tragedy.
The statement read: "On Tuesday, May 17, 2022, at approximately 4:09 PM, multiple police and EMS units were dispatched to the beach entrance near Seaview Road on the barrier island for reports of two teens trapped in the sand.
"The family was visiting from out of town and spent the afternoon at the beach. The teens were reportedly digging a large hole when it collapsed and trapped both of them.
"Emergency crews from neighbouring towns also responded to the scene to assist in rescue efforts.
"The 17-year-old female victim was rescued and treated at the scene, but her brother Levi Caverly, 18 of Union Maine, tragically died in the collapse."
If you have experienced a bereavement and would like to speak with someone in confidence contact Cruse Bereavement Care via their national helpline on 0808 808 1677