Ice caves that display 'magical' rainbow light show may be deadly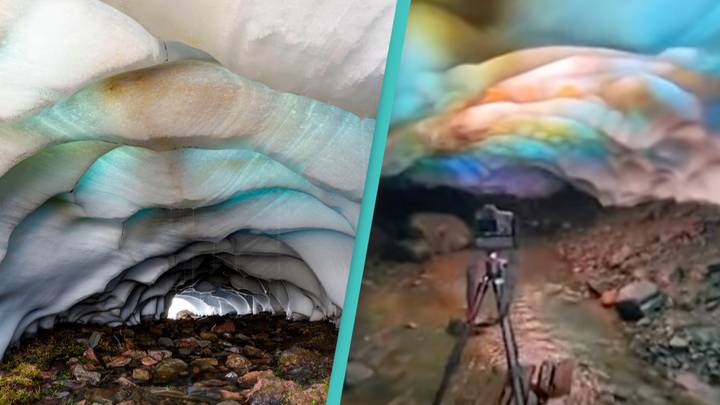 Featured Image Credit: Sergey Yatunin / Alamy Stock Photo / @mattnicholsphotography / TikTok
Officials have warned visitors to America's national parks not to take photos inside ice caves, because doing so could be deadly.
Last month, beautiful photos taken by photographer Mathew Nichols inside an ice cave at Mount Rainier National Park quickly went viral, with the awe-inspiring snaps showing all the colours of the rainbow reflected on the cave as sunlight scattered through its icy roof.
However, the National Park Service (NPS) has now urged people not to try and recreate the snaps, as by doing so they'll be putting themselves at risk.
"Officials strongly discourage visitors from approaching or entering ice caves or melt water channels as they are prone to spontaneous collapse due to melting, which is accelerated this time of year," the NPS said in a statement.
"Collapse, or ice and rock fall could be fatal or cause serious injuries to those who venture inside or near the entrance."
People visiting ice caves could also be at risk of hypothermia and the NPS has asked national park guests to take this into consideration before stepping inside the caves.
The NPS also pointed out that Nichols' stunning images showed a melt-water channel running beneath a perennial snowfield (snow that doesn't melt during summer).
The melt-water channel in question can be dangerous to visitors and although Mount Rainier National Park used to be home to several ice caves, climate change has caused these to disappear.
In their place are transitory and unstable channels and caves, which should be entered with caution.
"The park closed the historic ice caves around 1980 due to unsafe conditions including ice chunks and flakes, some the size of a small car, breaking loose and falling from the cave ceiling," the NPS's statement continued.
"I could not believe my eyes. I went up to Mt Rainier specifically to explore the ice caves and never imagined they would be SO COLORFUL."
He added: "This was by far one of the most magical things I have ever witnessed!! Even though it was very cold exploring these ice caves I did not want it to end!! I can't wait to go back and explore some more!!! The beauty of the Pacific NorthWest is absolutely mind boggling!!!"