Jim Carrey says there's one film he regrets making
Featured Image Credit: Barry King/Cinematic Collection/Alamy Stock Photo
Jim Carrey has played a lot of roles over the years - some of them iconic, some of them questionable, and some that are downright weird.
Carrey's done it all throughout his career; from his rubber-faced roles in The Mask and Ace Ventura to his turns in timeless dramas such as The Truman Show and Eternal Sunshine of the Spotless Mind, right up to his latter-day resurgence as Dr Robotnik in the Sonic the Hedgehog films.
But the only role the actor says he regrets playing after all these years is Captain Stars & Stripes from the comic-book sequel Kick-Ass 2.
Based on the graphic novel of the same name, the 2013 sequel film flew under the radar upon release, but is nevertheless a pretty good film - arguably contributed by Carrey's role as an unhinged baseball bat-wielding vigilante, which is every bit as solid as you'd expect from a performer of his caliber.
The sheer scale and senselessness of the tragedy wounded many, and seemed to particularly resonate with Carrey, who became a firm gun control advocate in the wake of the incident and has sworn off excessive violence in his movies ever since.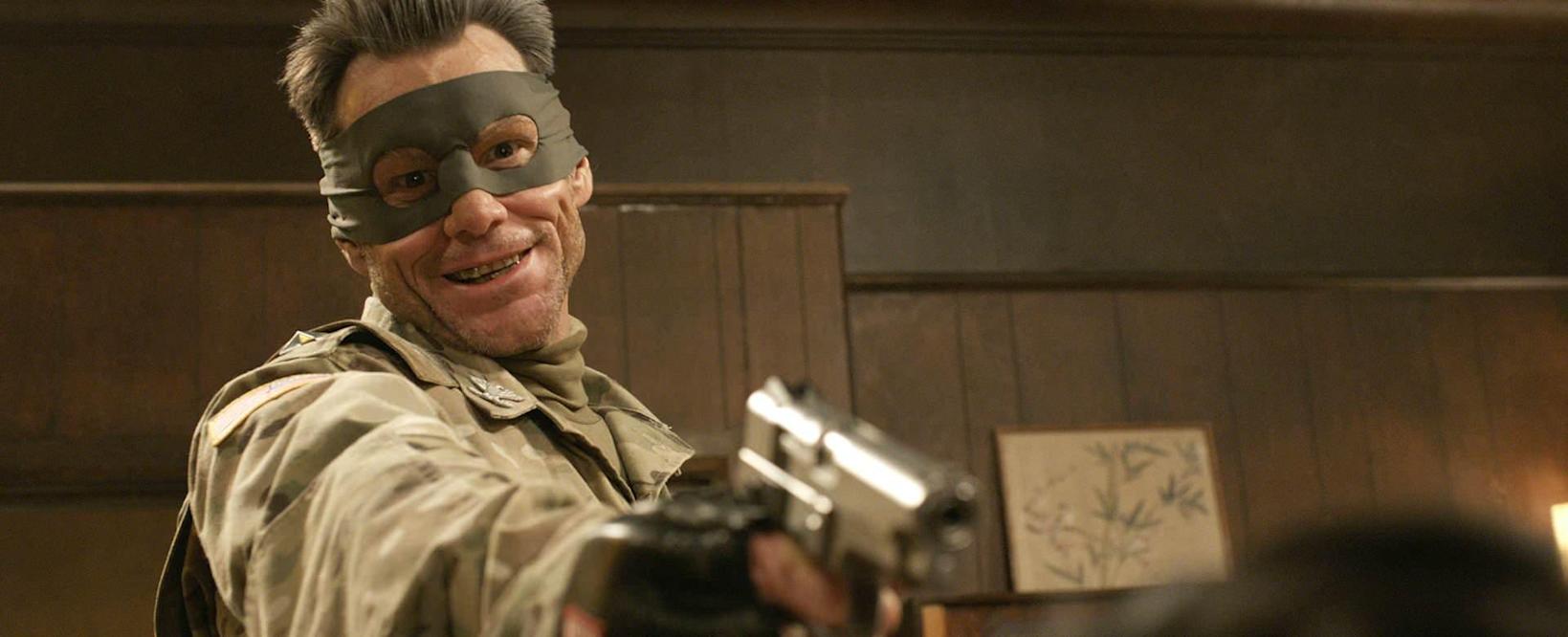 "I did Kick-Ass a month before Sandy Hook and now in all good conscience I cannot support that level of violence," he wrote on Twitter in June 2013.
"I meant to say my apologies to others involve [sic] with the film. I am not ashamed of it but recent events have caused a change in my heart."
However, Carrey's words drew criticism from Scottish comic-book writer and Kick-Ass 2 executive producer Mark Millar, who wrote the graphic novel the film was based on.
Writing in a blog at time, Millar said Carrey knew exactly what he was getting himself in for: "[I'm] baffled by this sudden announcement as nothing seen in this picture wasn't in the screenplay 18 months ago.
"Yes, the body count is very high, but a movie called Kick-Ass 2 really has to do what it says on the tin. A sequel to the picture that gave us Hit Girl was always going to have some blood on the floor and this should have been no shock to a guy who enjoyed the first movie so much…
"Like Jim, I'm horrified by real-life violence (even though I'm Scottish), but Kick-Ass 2 isn't a documentary. No actors were harmed in the making of this production!
"This is fiction and like Tarantino and Peckinpah, Scorsese and Eastwood, John Boorman, Oliver Stone and Chan-wook Park, Kick-Ass avoids the usual bloodless bodycount of most big summer pictures and focuses instead of the CONSEQUENCES of violence… Our job as storytellers is to entertain and our toolbox can't be sabotaged by curtailing the use of guns in an action movie."