Villagers lift newly-made road with bare hands and accuse contractor of scam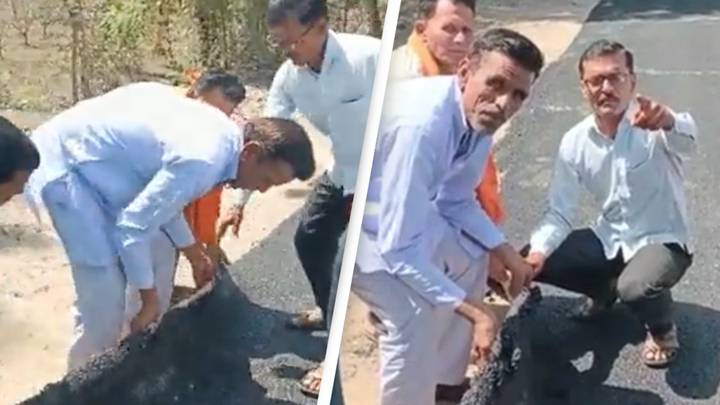 Featured Image Credit: Twitter / @lokmat
In countries such as the US and UK, we love to complain about the roads - typically starting with the amount of potholes.
And while potholes can be rather frustrating and annoying, there are not really the end of the world.
Of course, some people have been injured after driving over them - but the state of roads are certainly worse in a lot of less-developed countries across the world.
A video of a bunch of villagers in India has recently gone viral on social media, as they expose a cover-up job done from a local contractor.
As per The Free Press Journal, poorly-made roads and potholes have been a major headache for Indian people for a rather long time.
There are a lot of cases in India where the roads appear to be in a good condition, but a bit of rain changes everything.
In some cases, seemingly perfect roads can turn into a right mess and become unusable for a lot of people just because of a single rain shower.
Protests have taken place in India over the years calling for the government to take action on the country's road problems.
And while they may say the potholes are all covered up, some locals have exposed what is really going on under the cracks.
In recent times, a contractor from the Maharashtra region has been laying a carpet-like material directly onto the road, subsequently hiding all the potholes.
The material is compacted to create a smooth surface, with officials hoping it will cover up potholes on the road.
However, residents in Karjat-Hast Pokhari, situated in the Ambad Taluka, have exposed the contractor's work, which was reportedly carried out as part of the Indian government's Rural Road Scheme.
The villagers were given reassurances of a well-designed road, but the viral video certainly suggests otherwise.
In the short clip, local residents manage to pull up the road with just their bare hands, which has left many people online shocked.
The contractor claimed to employ German technology for the construction of the road, but villagers are now calling it a scam.
They labeled the work as 'bogus', while also demanding action against the engineer who approved the work.
Since there have been no further updates as of yet, it seems like the villagers will have to sadly deal with the shoddy work for a little while longer.