List of Top 5 Greatest Athletes of All Time has divided everyone
Featured Image Credit: ESPN/Rich Kane Photography / Alamy Stock Photo
Top five and top ten lists can be divisive to say the least, particularly when they involve a subject that a lot of people are passionate about.
Everyone has different opinions, and when you have to narrow down a lot of names to just five or ten, it can ignite some heated debates and discussions online.
One top five list that has seen a lot of talk around it in recent days is the ranking of the top five athletes of all time which was done on US TV.
The broadcast is actually from ESPN sports from over a year ago, but it has come back into the limelight in recent days thanks to Twitter users @StokeyyG2 and Out Of Context Football.
In the tweet by George, he captioned a picture of the top five with: 'Still can't believe this image is real'.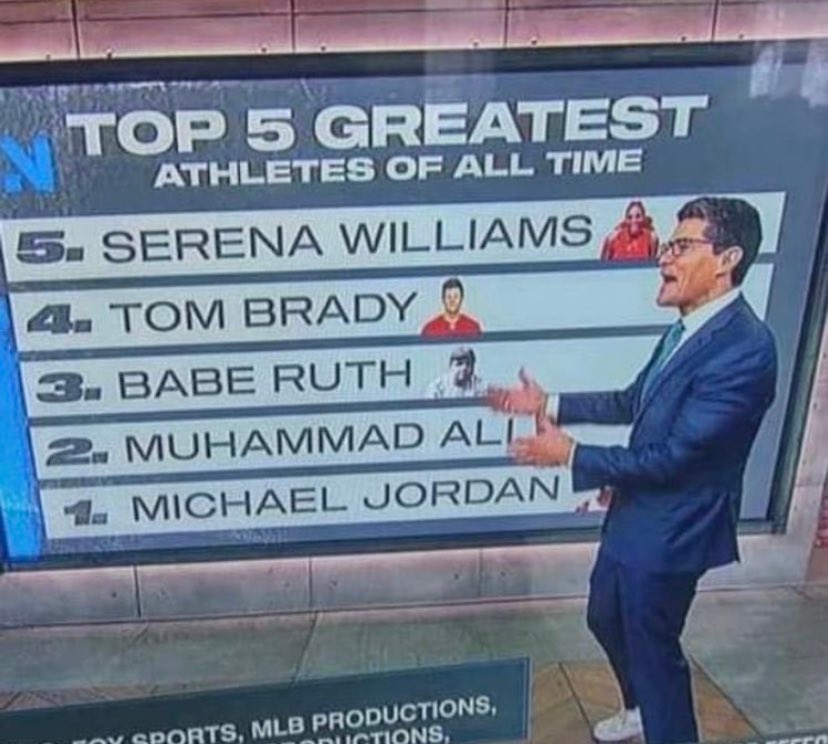 The list sees tennis legend Serena Williams at number 5, the recently retired Tom Bardy at 4, and early 1900s baseball player Babe Ruth in third.
Meanwhile, the man regarded as the best boxer of all time in Muhammad Ali comes in second, and according to ESPN, Michael Jordan is the greatest athlete of all time.
The list has certainly divided opinion on social media, with many questioning as to why there are no footballers or Olympians are on the list.
Others also pointed out that all athletes on this list are all American, though they are not doubting their ability.
In his heyday, Michael Jordan won six championships with the Chicago Bulls and was named Finals MVP an impressive six times.
The late Muhammad Ali was the first fighter to win the world heavyweight championship on three separate occasions, and was also labelled 'The Greatest'.
And Serena Williams won more Grand Slam singles titles than any other woman or man during the open era in tennis with an impressive 23 crowns.
Despite that, many have taken to Twitter to discuss who they would have on the list instead.
One person said: "Pffffff ridiculous. Maybe USA ranking. Where's Messi? Maradona? Pele? Fangio?"
A second added: "Pelé, Messi, Maradona, Federer, Cristiano Ronaldo, Djokovic, Nadal..."
And a third remarked: "It's sad to see how many people don't include Phelps in their lists.
"He is the most decorated Olympian of all time. This shouldn't even be a debate to have him on the list."
Finally, a fourth added: "Messi and Ronaldo gotta be there or at least one of them."