Selfie from top of Mount Everest destroys Flat Earth theory once and for all
Featured Image Credit: Reddit/u/amazed_spirit / David Keaton/Getty
The shape of the Earth isn't something that you'd think was disputed, but according to 'Flat Earthers', the globe just isn't a realistic comparison.
Ahem… but now we have infallible proof that the Earth is round and not some type of horizontal island floating in space.
If NASA images of the world from an astronauts point of view wasn't enough, then one man's selfie taken from the very top of Mount Everest might be enough to end the theory that Flat Earthers have been spouting once and for all.
It's long been proven with the science of the Earth being round is correct, but one man got so upset by Flat Earthers that he took it to the extreme in order to prove them wrong.
He decided he was going to scale the world's tallest peak and take a picture.
After he was successful in scaling the enormous mountain, he posted it on Reddit with the joking caption: "Checkmate flat Earth society."
As you can probably imagine, Reddit users went wild for the post and soon the jokes ensued.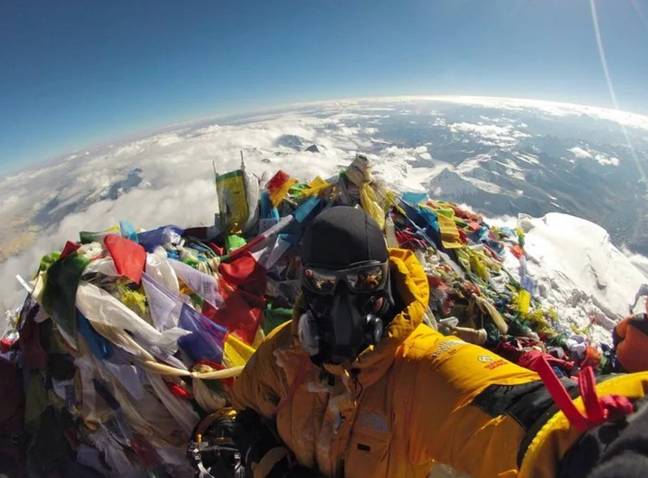 "I'm guessing that this has something to do with the camera lens and atmosphere affecting the image."
A second conspired: "I believe the flat earthers are trolling us all. Laughing all the way to their chat rooms and bulletin boards [sic]."
"I maintain that only like six people believe in a flat Earth," agreed a third user.
"Everyone else is just trolling each other."
"I'm all for a good conspiracy theory but there are some, including the flat earth, that are just too much," added a fourth.
Other users wanted to play Devil's advocate and suggest that the curvature of the earth could look more pronounced in his image due of the use of a fish eye lens - but this doesn't change it being a fact.
The Earth is round, okay?!
Another user wanted to know why the top of Everest looks like a 'garbage dump' which led someone to explain that everyone who scales the mountain leaves a flag to mark their success at climbing the beast.
It was also shared that there is a lot of trash on the mountain because of the extreme conditions at the top.
"A lot of Everest is littered with garbage," explained a Redditor. "The moment you pass a certain point the clock starts ticking and you literally begin dying. Every moment is planned out and any effort not spent reaching the summit or getting down will kill you."
"Bodies of former mountaineers have become altitude markers because anyone that would try to retrieve the bodies would 100 percent just die as well."
But while the litter bugs obviously aren't ideal, it didn't stop a another Redditor from joking that this selfie makes the climber look like he's 'riding a piñata in space.'
Do you think he managed to check mate the Flat Earth Society?