Shaquille O'Neal hits out at critics 'disrespecting' Rihanna following Super Bowl
Featured Image Credit: Sipa US/Cal Sport Media /Alamy Stock Photo
Shaquille O'Neal has hit back at critics of Rihanna's Super Bowl halftime performance.
Rihanna took to the field at the State Farm Stadium in Glendale, Arizona for her first performance in seven years, and the headlines were sealed within seconds.
The 34-year-old kicked off the show suspended high above the stadium dressed all in red, surrounded by her dancers dressed in all white.
With this being her first performance in years, she certainly picked the best moment to announce some big news, as she opened her jacket and stroked her pronounced stomach, with many fans quickly speculating that this was a pregnancy announcement.
Sure enough, the news was later confirmed by her representative and Rihanna was heaped with praise for her performance; even Piers Morgan said it was 'pretty damn impressive' that she pulled it off while pregnant.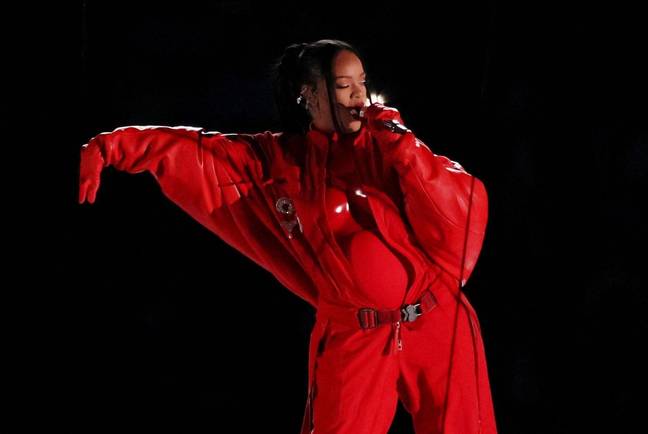 And the king of the ill-fitting suit even had the nerve to criticise her attire.
The 76-year-old wrote: "EPIC FAIL: Rihanna gave, without question, the single worst Halftime Show in Super Bowl history — this after insulting far more than half of our Nation, which is already in serious DECLINE, with her foul and insulting language. Also, so much for her 'Stylist!'"
Now, Shaq has encouraged Trump and the like to 'shut the f**k up'.
Speaking on The Big Podcast with Shaq, the former basketball star said: "All you people disrespecting my Rihanna, shut your face. Shut it up.
"We're living in a world where people got too much freedom. Keep your f***ing thoughts to yourself.
"She did a wonderful job, she's pregnant, she blessed it, she did her thing, she didn't fall. Just leave it there. All you superstars that's disrespectful and causing beef, shut your face. Shut it up."
The 50-year-old continued: "I was there. It was beautiful. She did a great job. I didn't know she was pregnant until she bust out, but leave her alone.
"Rihanna, thank you. That was my first time I've ever seen you perform, you did a great job. I love you, we all love you. All you other people, shut your damn mouth.
"All you people that got something to say, shut the f*** up."
Ahead of the Super Bowl, Rihanna had hinted that the performance would be a family affair, saying that it was 'important' for her son to watch it.
In a separate interview with Total Access NFL, she said she was 'thinking about bringing someone'.
Most people had assumed this might have meant Jay-Z or someone like that - not her unborn baby.
The singer treated fans to a selection of hits from her catalogue, including 'B**ch Better Have My Money', 'We Found Love' and 'Umbrella'.
Famous faces spotted among the crowd in the 63,000-seat stadium included Floyd Mayweather, Adele, and Sir Paul McCartney – who headlined the Super Bowl halftime show himself in 2005.