People left disgusted by Cardi B and Offset's red carpet antics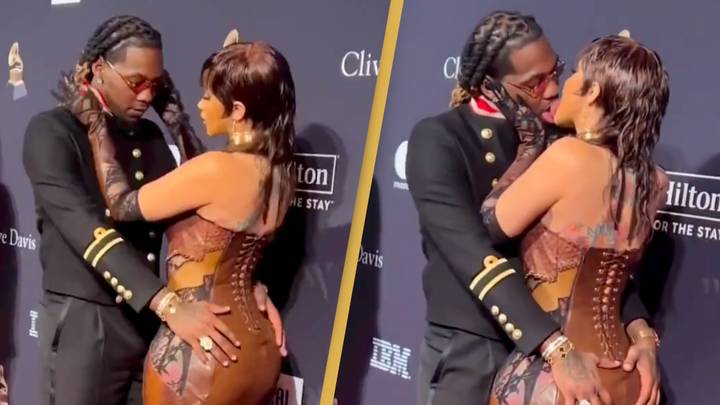 Featured Image Credit: @stepper38/Twitter
People have been left disgusted by Cardi B and Offset's red carpet antics and it's not hard to see why.
And joining in on the action, the rapper couple took to the Pre-Grammy Gala red carpet on Saturday night (February 4) to indulge in a passionate kills, tongues and all.
They both enjoyed a few long licks before turning to the cameras and smiling.
Ever since the clip started circulating on social media, people have been sharing their thoughts on the steamy display. You can watch below, although viewer discretion is advised:
Taking to Twitter, one wrote: "Damn, y'all don't be having sex in the house or something? Why do all that on the red carpet?"
Another said: "I just witnessed Cardi B making out on a red carpet. That was disgusting."
"That's such a weird thing to do in front of everyone," added a third, while a fourth asked: "Why do people keep inviting them to places together?"
Others speculated what was really going on behind the kiss, including this person who said: "Having to do that in public and having people watch means their relationship is not doing good when in private."
A second suggested: "Those who display public affection like this are usually the ones overcompensating for how bad their relationship is."
Some people did jump to the couple's defence, however, with one writing: "People making comments about how gross and disgusting this is. Who cares? It's not that serious.
"I love how they are with each other. They're comfortable, so why should it matter."
Well, you can't deny they're certainly comfortable with each other.
Offset, Takeoff and Quavo were all part of the Grammy-nominated hip-hop trio Migos.
Last month, Cardi opened up about the moment she and her husband learned the devastating news that the 28-year-old rapper, real name Kirshnik Khari Ball, had died.
Speaking on The Jason Lee Podcast, she said they had been planning to attend a Halloween party on the night Takeoff was shot but decided to stay home.
A few hours after falling asleep, Offset got the call.
"Offset picked up the phone, and he's just like, 'No!' He's screaming and screaming, 'No, no, no!' And I'm like 'What's going on?' And he was like, 'Takeoff is dead,'" she explained.
"He's just screaming and just throwing things, throwing up, running all over. I was just so scared, I was just crying so much. It was terrible."
Speaking to Jason about the aftermath of the incident, Cardi explained: "It was a sensitive time in my home.
"Everything was so triggering, like every little bad thing and every little this, every little whatever the crap, to me, was just so triggering. It was a lot."
If you have experienced a bereavement and would like to speak with someone in confidence contact Cruse Bereavement Care via their national helpline on 0808 808 1677