Angela Bassett becomes the first MCU star to win a Golden Globe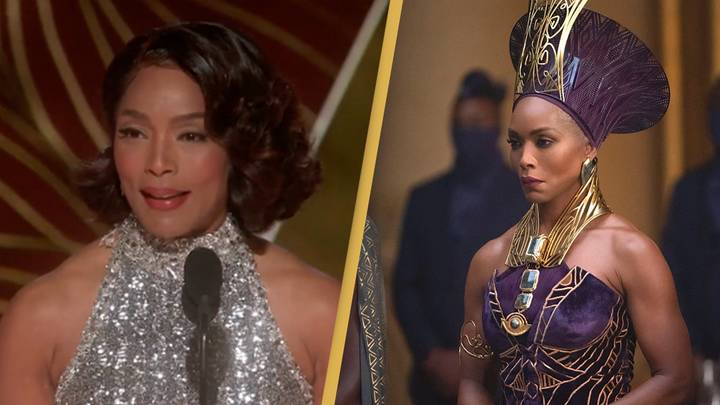 Featured Image Credit: NBC/Twitter. Marvel
Angela Bassett has become the first actor in the Marvel Cinematic Universe to win a Golden Globe.
The Black Panther star was recognised for her incredible performance as Queen Ramonda in Wakanda Forever.
She perfectly portrayed the role of a grieving mother as she mourned the lost of her on-screen son and off-screen friend, Chadwick Boseman.
"I got to find my words. I'm so nervous. My heart is just beating," she said at the start of her speech after winning the award for Best Supporting Actress in a Motion Picture.
"The late Tony Morrison said that your life is already a miracle of chance just waiting for you to order its destiny.
"But in order for that destiny to manifest, I think that it requires courage to have faith.
"It requires patience, as we just heard.
"And it requires a true sense of yourself.
"It's not easy because the past is circuitous and it has many unexpected detours, but, by the grace of God, I stand here. I stand here grateful."
This is Bassett's second Golden Globe win after previously taking home the trophy for 1993's What's Love Got to Do With It.
Only four actors involved in a superhero film have been nominated for a Globe.
Ryan Reynolds was recognised for his role in Deadpool, Jack Nicholson earned a nod for Batman, Joaquin Phoenix copped praise for Joker and Heath Ledger was called out for The Dark Knight.
The latter two won their respective awards, however their characters were from the DC universe.
Bassett's win is a first for the Marvel juggernaut.
The Queen Ramonda star thanked everyone involved in making Wakanda Forever and said the project was an emotional rollercoaster.
"We embarked on this journey together with love," she said.
"We mourned, we loved, we healed.
"We were surrounded each and every day by the light and the spirit of Chadwick Boseman.
"We have joy in knowing that with this historic Black Panther series, it is a part of his legacy that he helped to lead us.
"We showed the world what Black unity, leadership and love looks like, behind and in front of the camera.
"To the Marvel fans, thank you for embracing these characters and showing us so much love."